Dauman's Done the Easy Part. Now He Has to Find Viacom Some Hits
by and
The new chairman's company has had a stock and ratings slide

`Philippe has nine months to say what he is going to do'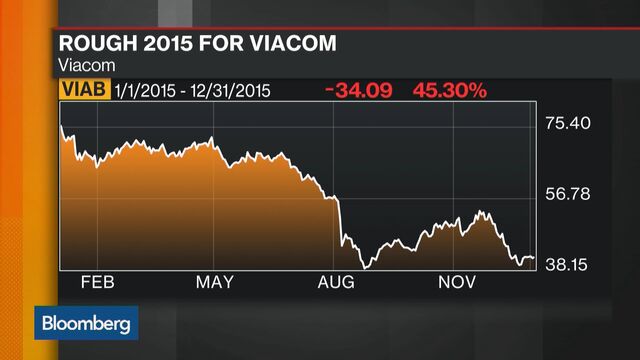 Philippe Dauman's problem is that his company has too much "Teen Mom" and no "Game of Thrones."
Dauman, chief executive officer of Viacom Inc. since 2006, consolidated his power Thursday by also becoming chairman. But he can't spend much time celebrating. He's got to answer the question that has bedeviled Viacom: How do you create a hit?
The company, which owns the Paramount Pictures movie studio, MTV, Comedy Central, Nickelodeon and more than 200 other cable channels, has been suffering. Mega-hits like "Jersey Shore" that generate chatter even from people who don't watch them are gone from the lineup. Comedy Central lost its two biggest stars, Stephen Colbert to CBS and Jon Stewart to retirement, before he signed up with premium cable's HBO. Paramount placed sixth among the six largest film studios in 2015, with its U.S. market share under 6 percent and less than a third that of leader Universal Studios.

The lack of boffo results is reflected in the stock price. Viacom finished last in the Standard & Poor's 500 media index last year, declining 45 percent. The shares have delivered a total return of 25 percent since Viacom and CBS Corp., once a single company controlled by Sumner Redstone, split into separate entities at the end of 2005. The Standard & Poor's 500 has returned 92 percent since then -- while CBS has delivered 148 percent.
Dauman's board-room victory, making him the successor to Redstone in a 10-1 vote, only buys him a bit of time, said Mario Gabelli, whose Gabelli Funds is the second-largest owner of Viacom voting shares after the Redstone family.
Nine Months
"Philippe has nine months to say what he is going to do differently," said Gabelli, who suggests the company consider a more strategic tie up with a company like Lions Gate Entertainment Corp. or Alibaba Group Holding Ltd. "Talking ratings improvements isn't going to work."
A Viacom spokesman pointed to viewer gains at several channels in the first three weeks of the year, including VH1, up 42 percent, Nick@Nite, up 21 percent, and Spike TV, up 6 percent, all in the 18-to-49-year-old age group advertisers target. The shows doing well include "Lip Sync Battle" on Spike, Comedy Central's "Inside Amy Schumer" and "Love and Hip Hop" on VH1. 
Even "Teen Mom," a reality series about teenage mothers, has been a success. Yet it's no "Game of Thrones," the epic HBO series that appeals to a wide range of age groups and routinely rates among the most-watched programs on cable TV. And that's what's missing.
Shari's Objection
Dauman, 61, got the chairman's job over the objection of Shari Redstone, the company's vice chair and daughter of Sumner Redstone, 92, who had been executive chairman of Viacom and chairman of CBS until this week. She had called for an independent chairman.
Viacom has tried to reverse declining U.S. advertising sales, which were down 7 percent in 2015, by spending more this year on original cable programming and pledging to produce more movies and TV shows through Paramount. The results have yet to bear fruit. Prime-time viewership of MTV, Comedy Central and Spike has declined more than 10 percent so far this season, following similar drops a year ago.
Boosting viewership isn't easy, as evidenced by the case of "Finding Carter" on MTV. A drama about a kidnapped girl who returns to her biological family. The show was supposed to be the kind of edgy soap opera the would reel in teens. One of the lower-rated MTV prime-time shows, it got canceled in January after two seasons.
Programming Costs
Trying to find hits costs money. Operating expenses at the TV unit, including the cost of programming and the acquisition of the U.K.'s Channel 5, increased 12 percent to more than $4 billion last year. Operating income fell 3 percent to $4.1 billion.
One bright spot: the preschool network Nick Jr., where total viewership is up almost 35 percent in prime time this season, according to Nielsen data. The channel is having a creative resurgence thanks to shows such as "Paw Patrol" and "Shimmer and Shine," a tale of fraternal twin genies who grant three wishes a day.
As for Paramount, the studio plans to release 15 films this year, up from 12 in 2015, according to researcher Box Office Mojo. The slate include installments in franchises, "Teenage Mutant Ninja Turtles: Out of the Shadows" and "Star Trek Beyond," as well as a fresh take on the old epic "Ben-Hur."
That's why some investors believe there's hope for a turnaround. 
"Those are fabulous assets," said Sal Muoio, who heads New York-based S. Muoio & Co., which also owns Viacom voting shares. "They have the biggest, youngest concentration of viewers, even with the recent losses."
Before it's here, it's on the Bloomberg Terminal.
LEARN MORE