Cruz Aide: No Plans to Invest More Resources in New Hampshire
With Marco Rubio surging and polls suggesting little room for growth in New Hampshire, Ted Cruz is betting on South Carolina and later contests.
By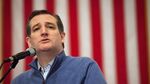 U.S. Senator Ted Cruz, the winner of the first Republican presidential nominating contest this year, is looking past the second one as the race in New Hampshire favors mainstream appeal over conservative bona fides.