Chinese Cities Ban Lunar New Year Fireworks as Smog Precaution
Bloomberg News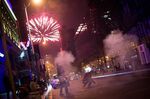 Shanghai and several other Chinese cities have banned the popular custom of lighting fireworks on the Lunar New Year to cut down on smoke and help improve the air quality over the week-long holiday.
Police in Shanghai will mete out fines of as much as 500 yuan ($76) to people caught setting off firecrackers or pyrotechnics in the central metropolitan area, the government said. More than 300,000 people will volunteer to help enforce the fireworks ban, the authorities said on Friday.
Nanjing and Hangzhou, capitals of neighboring Jiangsu and Zhejiang provinces respectively, also imposed bans inside urban areas. While Beijing authorities haven't imposed a prohibition, they said they will do so if air pollution triggers warnings, according to the Beijing Times.
The steps show an increasing willingness by local government officials to tackle a persistent pollution problem that have made grumblings about Chinese air quality commonplace. During winter months, smog accumulates as people burn more coal for heating and doesn't disperse because of weaker winds.
Smoke from fireworks can dramatically worsen air quality and the smell of gunpowder can linger throughout the extended holiday. Smog levels tend to jump on Chinese New Year's Eve when people traditionally light off the largest number of fireworks. U.S. Embassy data showed that Beijing's PM 2.5 particulate pollution, considered the most harmful to human health, surged 15-fold in six hours that evening last year.
---

Ushering the Year of the Monkey
---
The Chinese capital sounded two red pollution warnings this winter, the first time since it introduced an emergency air-pollution response system in 2013, prompting measures such as school closures and factory production limits. Shanghai also took similar action after its worst bout of heavy pollution in two years.
On Friday, Shanghai warned children and the elderly to stay indoors as its air quality deteriorated ahead of the holiday which begins Feb. 7. Concentrations of PM2.5 were 156.8 micrograms per cubic meter as of 2 p.m., the city's Environmental Monitoring Center said on its website. The World Health Organization cautions against daily exposure of more than 25.
— With assistance by Feifei Shen
Before it's here, it's on the Bloomberg Terminal.
LEARN MORE