The Phone Companies People Actually Love
Amid falling costs and frustration with the Big Four, virtual networks are making a comeback.
By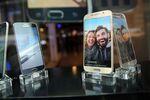 Robert Arnold, 68, worked for AT&T for 35 years, testing phone lines and cables for its TV service. While he worked there, he used his employer's cell plan. After retiring, he didn't want to pay AT&T's rates—or Verizon's, for that matter, or T-Mobile's or Sprint's. Paying $35 a month for one line with no data or texting was too expensive, he says. He's still using AT&T's network, but he's not giving the company a cent.
Instead, he pays $38 monthly for two lines' worth of phone, text, and data from Consumer Cellular, a much smaller operator that rents capacity from AT&T's network. "I'm getting exactly the same service for less money," says Arnold, except the customer service is better.
Companies such as Consumer Cellular are known as mobile virtual network operators, or MVNOs. Essentially they're marketing and customer service operations, leasing network capacity from the Big Four U.S. carriers and reselling it under their own brands. Switching carriers typically saves customers at least $20 a month (some base their charges on use), and MVNOs often target niche audiences—seniors, kids, immigrants.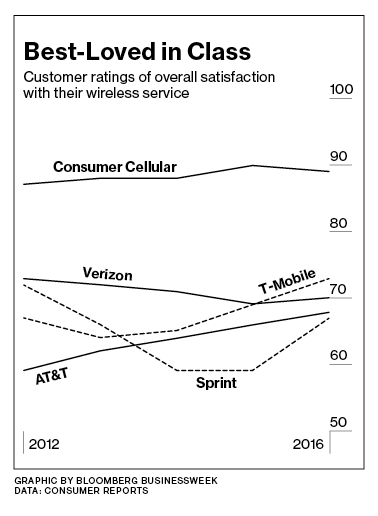 Years ago, the iPhone killed a lot of these companies, which couldn't keep up with consumer demand for increasingly data-hungry smartphones. Times have changed: It's a lot cheaper and easier to run an MVNO than it used to be, and more customers are seeking an alternative to the Verizons and AT&Ts of the world. MVNOs account for 36 million (1 in 10) U.S. wireless subscriptions, estimates researcher Strategy Analytics, roughly double their 2009 numbers. During that time, subscriptions at the Big Four rose 28 percent.
Arnold's Consumer Cellular plan includes 750 minutes, 500 megabytes of data, and 3,000 texts; overage runs to 25¢ a minute. AT&T's cheapest monthly phone plan, with unlimited talk and text and 300MB of data, costs $45.
In the old days, when the 150 U.S. MVNOs had names like Amp'd Mobile and Voce, most didn't turn a profit. Even with brands like Walt Disney and ESPN backing them, many failed in a matter of months, often squeezed by the cost of network capacity. Today the U.S. has about 300 MVNOs, 60 percent of them profitable, estimates Alex Besen, chief executive officer of consulting firm Besen Group. Driving their rise are some fundamental changes in the way the wireless industry operates.
Three years ago, T-Mobile led an industrywide push away from the two-year service contracts familiar to U.S. wireless customers, making it easier for people to comparison shop and change providers. Making a switch cheaper still, the Big Four providers announced last year they'd stop the practice of "locking" their phones, meaning that for the first time you could move your iPhone from Sprint's network to AT&T's without having to buy a new one. (Sometimes, of course, there are technical difficulties.) "The shift in how handsets are purchased has been hugely beneficial for MVNOs," says Susan Welsh de Grimaldo, an analyst for Strategy Analytics.
Behind the scenes, the big guys were getting a lot more reasonable with MVNOs, too. Wholesale rates for network capacity have fallen as much as 65 percent in the past five years and are expected to keep dropping. Partly, that's because the maturing U.S. market offers carriers a shrinking number of ways to increase the number of people using their networks. "The success and growth of our MVNOs is success to Sprint," says Scott Kalinoski, a vice president at Sprint, which sells capacity to more than 100 MVNOs.
Many MVNOs have begun pitting carriers against one another. When signing a new customer, Consumer Cellular, which works with AT&T and T-Mobile, picks a network based on which has better coverage in the person's area. A handful of MVNOs, including Red Pocket Mobile, work with all top carriers. "We see this as an important part of our value proposition," says Red Pocket President Joshua Gordon. "You can bring any phone, keep your number, and save money."
Three MVNO brands—Consumer Cellular, Ting, and Republic Wireless—sit at the top of Consumer Reports' latest industry rankings for customer service satisfaction. The giant names score the worst. Mike Gikas, senior electronics editor at Consumer Reports, says people who use MVNOs often report better call quality than they did for the carriers that provide the actual capacity.
Based largely on popular demand, MVNOs are starting to take up more space on retail shelves. Three-year-old Ultra Mobile is in about 25,000 U.S. stores, including Target and 7-Eleven. Pure TalkUSA, which markets to older consumers and young families, expanded into more than 1,600 Sears and Kmart stores last year, and Chief Operating Officer Norman Klugman says about 20 percent of subscribers were referred by existing customers.
Consumer Cellular's revenue rose about 30 percent last year, to $620 million. From 2012 to 2015, rival Ultra Mobile saw its sales rise from less than $1 million to almost $200 million, placing first on Inc.'s list of America's fastest-growing private companies. TracFone Wireless, the largest U.S. MVNO and a subsidiary of América Móvil, is "a cash machine," says CEO F.J. Pollak.
Cash machines, of course, have withdrawal limits. TracFone's revenue rose just 2.6 percent, to $5.1 billion, over the first nine months of 2015. The company blames more price competition from bigger players. "Carriers don't seem to care too much how much they spend on acquiring customers," says Pollak.
Another factor: The success of the new generation of MVNOs imposes a ceiling on how much each can grow. The Besen Group estimates that 50 to 60 MVNOs will be launched in 2016, including one from Comcast. The flip side of customers' preference for unknown carrier brands, Welsh de Grimaldo says, is that it's tough to make them stand out. Kalinoski says the companies that appear to be having the most success focus on specific groups of customers, like people interested in donating a portion of their bill to women's-rights groups.
Good customer service and low prices have a pretty broad audience, says Michael Goldstein, a vice president at Ting, which claims about 200,000 subscribers. "Those of us who are hungry and are doing back flips," he says, "are doing a better job pleasing people."
The bottom line: The U.S. MVNO industry has doubled since 2009 as costs have fallen and dissatisfaction with bigger companies has grown.
Before it's here, it's on the Bloomberg Terminal.
LEARN MORE