Small to Big: How 4Moms Kept Its Baby Seat From Meowing
The challenges of making a robotic chair for babies.
By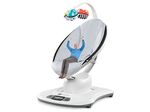 4Moms makes high-tech baby gear for the kind of parents who use an iPhone app to keep track of their infant's feeding schedule and buy Huggies on Diapers.com. Its lineup includes a stroller that folds at the touch of a button ($850), an oscillating baby seat ($240), and a self-installing car seat ($500). Rob Daley, who has a background in venture capital, teamed up with Henry Thorne, a roboticist, to start the Pittsburgh-based company in 2005. The two were convinced that the old-line makers of baby gear would be slow to grasp the opportunity created by rapidly falling prices for sensors and other automation equipment. The 160-employee company logged sales of $48 million in 2014, but like any small business, it's encountered glitches along the way. Here, Chief Executive Daley recalls one hair-raising product launch.
Our first product took us about 18 months to bring to market. It was an infant bathtub with a temperature reader. It costs us $20.84 to make, and we sold it for $18. We discontinued it after the first year.
Our next product was the mamaRoo. That's an infant seat that moves up and down and side to side to replicate the motions that parents make to comfort their babies. We never talk about it this way to consumers, but it's a two-axis, coordinated-motion robotic platform.
The mamaRoo took us about four years to develop. We were already desperately late with the product. Then, when we moved from prototype production to first line production, we ran into a problem: When you turned those first mamaRoos on, it sounded like there was a live cat trapped inside.
We were desperate to ship. But we have some words we live by over here: "Good enough isn't; awesome is."
So we signed on for another four months of development. It actually took six. We had a venture capital firm that was supposed to invest at the end of January 2010, but they pulled out. So Henry and I had to circle our wagons. He agreed to put another $200,000 into the company, which would keep us in business for another 60 days, and I said I would find another investor. We started shipping prototype units to retailers. Before the two months was up, we got Newell Rubbermaid to come in as a strategic investor.
If we had shipped the version that was just good enough, the product wouldn't have gotten any traction. It's a lesson that we've held on to really tightly. Right now, retailers are screaming for our car seat. Investors are screaming, too. But we're spending millions of dollars refining it, 'cause we continue to believe that short-term pain is long-term gain. —As told to Cristina Lindblad
Before it's here, it's on the Bloomberg Terminal.
LEARN MORE