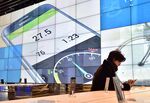 The first thing shoppers see when they enter the mobile phone section of Bic Camera, a seven-story electronics store in central Tokyo, is an ad for the iPhone 6S that stretches from the sales counter to the ceiling. Nearby are comparably large billboards for Sharp's Aquos and Sony's Xperia phones. Conspicuously absent from the marketing blitz is Samsung. Its Galaxy S6 is stashed in a corner, next to a Sharp-made flip phone aimed at retirees.
One-fifth of the smartphones shipped around the world are Samsung's, but in the No. 3 economy, it's hard to find one. Samsung has just 6 percent of the 36 million phone market in Japan, according to researcher IDC, while Apple has close to 50 percent. Globally, the Korean company still leads Apple, but in Japan it trails local brands such as Sharp, Fujitsu, and Kyocera.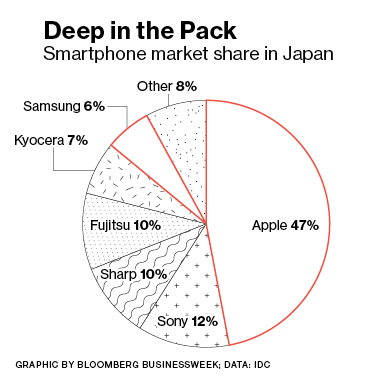 While Samsung was growing quickly in markets like China and India, it could afford to be somewhat sanguine about treating Japan as an afterthought. Now, not so much: The conglomerate's Jan. 28 earnings report brought a fresh round of bad news, including a quarterly profit almost 40 percent below expectations. With demand for smartphones sputtering globally, annual operating income from Samsung's phone division has dipped below that from its semiconductor business for the first time since 2010 and looks to be headed lower still. "The overall smartphone market will remain difficult throughout this year," Lee Kyeong Tae, vice president for Samsung's mobile communications business, said on a conference call following the report.
So suddenly, Samsung wants to talk about Japan again. The country is "a very important market," says Hiroyuki Tsutsumi, who heads operations there. His plan, broadly, is to persuade people they should buy Galaxy smartphones to take advantage of Samsung's smartwatches and virtual-reality headsets, which require the phones to varying degrees. The company's Gear watches link wirelessly with its smartphones and are close to, but not quite, standalone items. The company's Gear VR headset requires a Galaxy to function.
In Japan, Samsung says, it will more than double its roster of business partners this year, providing mobile devices and accessories to a select group of biotech companies, automakers, and others. Mitsubishi Estate Home, one of Japan's biggest real estate developers, is using Gear VR as a sales tool, letting prospective homebuyers virtually visit properties. Fuji Soft has agreed to bundle its note-taking and scheduling apps with Galaxy phones and tablets in hopes of creating an Evernote for business. IDC analyst Melissa Chau says that while the deals can't hurt, in Japan Samsung has neither the volume nor the growth potential to significantly strengthen its global performance.
Samsung's quarterly profit was 3.24 trillion won ($2.7 billion), and it gained global smartphone share in 2015. But shipments grew just 0.8 percent last year, estimates researcher Strategy Analytics, so Samsung will have to work harder to differentiate itself. In Japan, "we are setting our sights on 2020, aiming to be the top player on Android by then," Tsutsumi says.
That won't be easy, says Neil Shah, research director of Counterpoint Technology Market Research. Besides Apple, no foreign company has managed to win over Japan. In the Bic Camera store, Yoshikazu Shinagawa, a 34-year-old office worker browsing the aisles, says he's not interested in the Galaxy or any of Samsung's other gadgets. "Samsung as a brand just isn't prominent," he says. "It's completely overshadowed."
The bottom line: After reporting a quarterly profit almost 40 percent below expectations, Samsung is trying harder in Japan.
Before it's here, it's on the Bloomberg Terminal.
LEARN MORE