Proving Zika's Brain Deformity Links Hinges on Diagnostic Tools
by , , and
Virus test needs to be available in communities, doctor says

Proof of deformity link will spur Zika vaccine research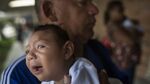 The race to find the cause of the birth defects that have sparked an international health emergency hinges on a rapid supply of diagnostic tools, experts on the front line say.
A globally coordinated surveillance effort is needed to find a causal link between Zika, a viral disease "spreading explosively" in Latin America, and clusters of babies born with abnormally small heads, a serious neurological condition known as microcephaly, said David Heymann, the veteran epidemiologist named Monday as chair of an expert panel advising the World Health Organization on Zika.
"What's necessary for surveillance, though, are good diagnostic tests" that can be deployed in communities, Heymann said Wednesday in a telephone interview from London, where he heads the Centre for Global Health Security at Chatham House. "The diagnostic tests are the most important issue that needs to be done rapidly. People need to be working together on the development of tests."
Scientific proof of the link will stimulate vaccine research, potentially leading to an immunization that can protect women and their fetuses, much like the shot for rubella, which can also cause microcephaly, Heymann said.
Vaccine Research
Researchers should prioritize development of better tools to reliably and rapidly detect the virus, said Nicholas Jackson, head of research at Sanofi's vaccine division, who wrote to the WHO about it on Wednesday. "That is going to be very important for any vaccine research program," he said in a telephone interview. "There is no gold standard and there is no commercially available test."
---

A look at how Brazil, Guatemala and Venezulea are fighting the outbreak.
---
Sanofi said it will build on its work that led to the successful development of the world's first vaccine against dengue to attack Zika, which belongs to the same family.
To date, Brazil has reported more than 3,000 suspected cases of microcephaly, which are currently under investigation. "The actual numbers sound terribly alarming, but I am sure when it all pans out, the increase will be nothing like it," Lyn Gilbert, a professor of medicine at the University of Sydney, told reporters at media briefing in Sydney on Tuesday. Cases of microcephaly in Brazil were probably previously under-reported and some of the more recent cases there may have other causes. "It's probably also in the context of millions of cases of Zika virus infection, the vast majority of which are not being recognized because most of them are asymptomatic."
The Geneva-based WHO assembled a team of scientific experts around the globe for a virtual meeting on Wednesday to discuss the cases and the association with Zika, according to Anthony Costello, who heads the agency's department of maternal, newborn, child and adolescent health.
Some existing antibody tests may confuse past exposure to Zika with other so-called flaviviruses, such as dengue and Chikungunya, Costello said. "You want a test that will pick up all cases, but also one that doesn't alarm too many people," he said in a phone interview following the meeting. "It has to be both sensitive and specific."
Diagnostic tests for Zika are only being offered by some laboratories in-house, said Mike Catton, director of the Victorian Infectious Diseases Reference Laboratory in Melbourne.
Urine Test
His lab developed such a test using a technique called polymerase chain reaction, or PCR, to identify infected travelers entering Australia after Zika virus caused an outbreak in French Polynesia in 2013. His lab detected a case the same year in a traveler from Africa.
The outbreak in the Pacific demonstrated that Zika virus genetic material is present in the blood of infected people for about a week from the time they start displaying symptoms, Catton said. Viral RNA can be detected in a patient's urine for 10 days, making it a better specimen to test, he said.
Before it's here, it's on the Bloomberg Terminal.
LEARN MORE