Private Equity's IHeart Radio Chokes on Debt Load It Can't Repay
by and
Annual sales haven't rebounded since the financial crisis

More users are flocking to online radio, podcasts and Spotify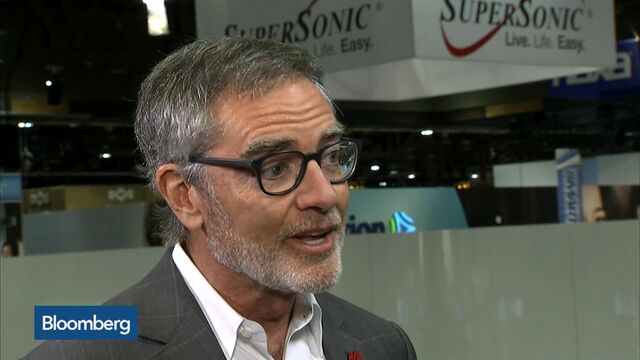 IHeartMedia Inc., the largest radio station operator in the U.S., is trying to buy more time to grow in an industry that isn't.
Saddled with $20.6 billion of debt, IHeart, formerly called Clear Channel Communications Inc., is working on a deal that would retire about $1.4 billion of its most-pressing obligations before 2019, some trading at less than 39 cents on the dollar, according to a person with direct knowledge of the matter. The plan marks the company's latest attempt to rein in the debt it took on in its 2008 acquisition by private equity firms Bain Capital Partners LLC and Thomas H. Lee Partners LP, a $24 billion deal that came to symbolize the excesses of the pre-crisis buyout boom.
IHeart's struggles reflect the broader challenges facing traditional radio in the digital age. As online music services surge, spending on advertising for radio is smaller than it was in 2008, according to the Radio Advertising Bureau. In that time, Pandora Media Inc. has added millions of new customers for its online radio services while Spotify Ltd. and Apple Inc. created popular on-demand streaming music services.
"The whole industry has undergone massive change," said Matthew Duch, a money manager at Calvert Investments Inc. in Bethesda, Maryland, which oversees more than $12 billion in assets. "You still scratch your head on how these companies will grow revenue in this environment."
A representative for IHeart declined to comment.
Streaming Music
The radio and billboard company was bought by Bain and Thomas H. Lee as the recession hit and credit markets froze. The deal, which took two years to complete, was in and out of court and the price was re-negotiated at least once.
Clear Channel's name changed to IHeart in 2014 to reflect the title of its streaming music application and to rebrand as a media company. That app surpassed 80 million registered users, the company said last month.
Yet IHeart's legacy businesses -- 850 radio stations and billboards -- still contribute the bulk of its revenue, and those sales aren't growing quickly. IHeart is projected to report sales of $6.2 billion in 2015, a 1.1 percent drop from 2014.
Instead, the growth in listeners is online. The number of U.S. residents older than 12 listening to online radio every week reached 119 million in 2015, according to data from Edison Research, and the number of residents listening to podcasts reached 27 million. This has inspired companies such as Amazon.com Inc. and 21st Century Fox Inc. to invest in the production of podcasts. Pandora's revenue is projected to have grown 26 percent in 2015.
Music Festival
The music industry has heralded paid streaming services as the future of its business. They accounted for 32 percent of all recorded music sales in the U.S. in the first half of last year.
Meanwhile, the amount spent on radio advertising is expected to decline to 7.1 percent of all media ad spending by 2018 from 8.6 percent in 2014, according to eMarketer Inc.
To compete, IHeartMedia has invested in online properties and events to broaden the company's reach and sales. Chief Executive Officer Bob Pittman wants to sell advertising across all of its properties -- from radio stations to the app to the annual IHeartRadio music festival.
"IHeart isn't just an app; it's representative of the re-imagination of a company that started as a radio and out-of home company," said Michael Kassan, an adviser to the company as chief executive officer of MediaLink. Kassan compared Pittman's strategy at IHeart to media companies that are trying to offset declines in print and online display advertising by investing in online video production and distribution.
Interest Payments
IHeart's sales have never fully recovered from a pre-recession high in 2007, the last time the company reported a profit. Since then, the company has lost between $219.5 million and $4 billion every year. Those losses have continued thanks in part to growing interest payments on the debt inherited from the buyout.
IHeart has spent the past eight years refinancing and restructuring that debt -- without materially reducing the amount. It has pushed back the payments instead.
To boost its cash, IHeart has been tapping its healthier divisions. In December, Clear Channel International BV raised $218 million to help fund a special dividend for the parent company. Clear Channel Outdoor raised more than $566 million in January by selling billboards in eight markets to Lamar Advertising Co. and other buyers.
"It's a case of burning your sofa to heat up the house," Philip Brendel, a credit analyst with Bloomberg Intelligence. "It's not necessarily a good idea but you're running out of options."
Debt Obligations
The debt deal now being discussed would take care of borrowings coming due before 2019, when the company hits an $8.3 billion wall of senior debt, 40 percent of total obligations, according to the person with direct knowledge of the matter.
Under one plan, the company would sell securities in one of its units to retire $1.4 billion of bonds the parent company is responsible for paying, said the person, asking not to be identified because the discussions are private. IHeart, which is discussing the plans with its private-equity owners, would offer existing debtholders the option to exchange into new obligations from a subsidiary called Broader Media LLC, the person said.
IHeart is also discussing an alternative plan to use proceeds from a Broader Media security sale to purchase the parent company's bonds in the open market, the person said. The company is looking to take advantage of low market prices for its debt, the person said. The cheapest of the obligations being targeted for paydown traded Wednesday at less than 39 cents on the dollar, less than half its peak in February, according to data compiled by Bloomberg.
"It is not lost on us where debt trading levels are," Brian Coleman, IHeart's treasurer, told analysts on a Nov. 5 conference call. "We do feel there are opportunities for liability management activities."
Before it's here, it's on the Bloomberg Terminal.
LEARN MORE