Startups Haven't Replaced India's 19th Century Food Delivery Service
Venture capital-backed food apps are struggling to displace traditional dabbawalas on bikes.
By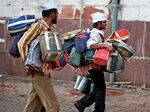 More than 400 food delivery apps started up in India over the past three years, raising $120 million from venture capital firms and other investors. Luring customers with photos of tasty curries along with discounts and free delivery, they sought to disrupt the delivery networks that have existed in India since the 1890s, including Mumbai's famously low-tech dabbawalas, who ferry 175,000 meals—some from cooks' homes, others from central kitchens—to office workers and students daily. The time-tested deliverymen carry boxes via trains, bicycles, and pushcarts to their hungry clients, using a system of alphanumeric codes printed on reusable containers.
The new services offered something dabbawalas don't: last-minute ordering and the ability to choose dishes from hundreds of restaurants. Dabbawalas require a monthly commitment, and customers are locked into a meal plan for the entire period. Even so, most of the high-tech startups have foundered, and dozens have closed. The ones that are surviving, including TinyOwl and Foodpanda Hellofood's India unit, are shrunken versions of their former selves. "The story was glorious when they had lots of money in the bank, but they went madly after customer growth and spent it quickly," says Anil Joshi, an investor and founder of Unicorn India Ventures in Mumbai, who didn't invest in food delivery companies.
Meanwhile, the dabbawalas appear to be busier than ever. While they have no apps, they've managed to retain market share. And they're jumping on the e-commerce bandwagon themselves—by lending delivery staff to companies such as giant e-tailer Flipkart and offering training programs for new tech-enabled merchandise delivery startups such as Roadrunnr.
"All these people got into the business and offered services for very cheap, but they forgot that they needed to make money to survive," says Subodh Sangle, a coordinator with the Mumbai Tiffin Box Suppliers Association, a union representing about 5,000 lunchbox deliverymen. "We have been working in this field for so many years and know what it takes to deliver meals at the right price."
The experience of TinyOwl is telling. The Mumbai-based platform to order food from nearby restaurants started in 2014 and raised about $20 million in its first year. Its workforce grew to about 1,200 in early 2015, and co-founder and Chief Executive Officer Harshvardhan Mandad said he planned to expand operations to 50 cities by the end of that year. By November the company had let go of 270 workers, mostly call-center employees and delivery personnel. When one of the co-founders arrived to break the news at the company's office in Pune, a city near Mumbai, he was taken hostage by angry employees who demanded immediate payment of severance packages, technology news site MediaNama reported. Police were called in to rescue the executive, the report said. He didn't respond to calls and text messages seeking comment. The company now operates in just two cities, with about 200 employees.
TinyOwl's biggest rival was Foodpanda, a restaurant delivery provider owned by Germany's Rocket Internet. With operations in more than 25 nations, it entered New Delhi in 2012 and rapidly expanded to more than 30 cities across India, with a workforce swelling to 1,300 by late last year. While the company spent heavily on TV ads and discounts to woo consumers, its operations were plagued with poor technology, accounts of swindling by fake restaurants, and theft by employees and contractors, the Mint newspaper reported in September.
"The challenges on the ground are far bigger than anyone can imagine," Foodpanda India CEO Saurabh Kochhar said in an e-mail. "We face issues from mindset to infrastructure to capabilities." He said the company dismissed 15 percent of its workforce as part of its move to automate operations. Local media reports said layoffs were more than double that percentage. Kochhar declined to comment on the company's investigation into the fraud allegations.

The company has weeded out fraudulent restaurants and converted its system to a "very, very tightly managed marketplace," says Ralf Wenzel, global CEO for Berlin-based Foodpanda. "In other countries, you could have been much more open. But not in India." Still, the India business is "better than ever," he says, denying local media reports the unit is for sale.
Part of the problem is that the companies expanded too quickly, hiring scores of delivery personnel and call-center employees. That's led to a "quasi-crisis kind of situation" as salaries for delivery staff have risen almost 70 percent in the past year, says Rituparna Chakraborty, senior vice president at recruitment consultant TeamLease. Upstarts including Swiggy have skipped hiring delivery staff altogether, instead recruiting part-timers for each delivery.
Even seasoned players have struggled to make food ordering work. Seven-year-old, Sequoia Capital-funded Zomato Media is India's biggest aggregator of restaurant menus. It got into food delivery last May, along with a new cashless payment service. But in November it fired about 300 people, 10 percent of its staff, and ditched the cashless service.

The company said in a blog post that it had overspent on the program, including handing out free iPads to thousands of restaurants. In December it said it was shutting down online ordering in 4 of 14 cities where it operates. "Despite Zomato's recent marketing efforts, including television ads, it didn't see a significant increase in the order volumes in these few cities," co-founder Pankaj Chaddah said in a statement.
For restaurateurs such as Rajiv Rambhia, who runs the Local Bites restaurant in Mumbai, the flush of food-ordering apps has been a mixed experience. There was the initial boom when TinyOwl, Foodpanda, and others lured lots of customers by offering discounts of as much as 50 percent. Then the discounts started drying up, and the app companies started charging restaurants commissions of as much as a fifth of each order. "Obviously, if you offer them a 50 percent discount, people will come," Rambhia says. "When the offer stops, those orders also stop. My business hasn't really gone up because of these guys."
The bottom line: Food delivery apps in India raised $120 million from investors in the past three years but failed to displace traditional meal deliverymen.
Before it's here, it's on the Bloomberg Terminal.
LEARN MORE