Obama Will Ask for $1.1 Billion to Cut Heroin Deaths in U.S.
By
CDC says at least 28,648 people died from opioid abuse in 2014

Epidemic is a campaign issue in hard-hit New Hampshire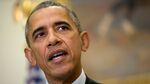 President Barack Obama will ask Congress for $1.1 billion in his next budget to combat the U.S. opioid abuse epidemic, a crisis so severe that it's emerged as a 2016 campaign issue and has led two senators to block his nominee to run the Food and Drug Administration.
At least 28,648 people in the U.S. died of causes linked to opioid drugs in 2014, according to the Centers for Disease Control, almost as many as are killed annually in car crashes. The class of drugs includes heroin and some prescription painkillers such as oxycodone.
Obama will include the money in the budget plan for fiscal 2017 that he sends to Congress Feb. 9, the White House said Tuesday in a statement. The amount Obama wants to spend on the drug epidemic over two years is about the same as the $1 billion he's requested to speed development of cancer treatments and try to find cures.
"Prescription drug abuse and heroin use have taken a heartbreaking toll on too many Americans and their families, while straining resources of law enforcement and treatment programs," the White House said in a statement.
Obama released his opioid budget plan the day most of the presidential candidates from both parties arrived in New Hampshire to continue their campaigns following Monday's Iowa caucuses.
Campaign Issue
New Hampshire, which holds the nation's first presidential primary, is one of the states worst hit by the epidemic. From 2004 to 2013, the number of people admitted to state-funded treatment programs rose 90 percent for heroin and 500 percent for prescription opioids, according to DrugfreeNH.org, a state-funded anti-drug abuse group.
The toll has drawn the attention of presidential candidates, especially in New Hampshire, with some of them telling personal stories of lives touched by drug abuse. New Jersey Governor Chris Christie, a Republican, has called for ending the stigma associated with addiction while former Secretary of State Hillary Clinton, a Democratic candidate, has called addiction "a chronic condition that has to be interrupted and treated and prevented if possible."
In Congress, Democratic senators Edward Markey of Massachusetts and Joe Manchin of West Virginia have said they would try to block Obama's FDA nominee, Duke University cardiologist Robert Califf, in part because they believe the administration hasn't sufficiently addressed opioid abuse.
Markey said he was angered that the FDA last year approved Purdue Pharma Inc.'s OxyContin, the brand name for oxycodone, for use in children ages 11 to 16. Manchin said in a Jan. 27 statement that he believes Califf's ties to the pharmaceutical industry are too close for him to adequately combat opioid addiction.
'Bipartisan Support'
The Obama administration has previewed a number of budget proposals that Obama and his aides believe may have some appeal to Republicans, who control both chambers of Congress. Because opioid abuse is an issue that cuts across party lines and geography, it's an area Republicans have reason to work with the Democratic White House, Health and Human Services Secretary Sylvia Mathews Burwell told reporters on a conference call.
"There is a tremendous amount of bipartisan support when it comes to dealing with the epidemic," she said. The money Obama will request "reflects the needs and demands of the country at a particular moment in time."
Obama announced his opioid plan the same day he met at the White House with Senator Mitch McConnell, of Kentucky, and Representative Paul Ryan, of Wisconsin, the Republican leaders of the Senate and House.
Before the meeting, Ryan's office released a statement saying he expects Obama to submit a "bloated budget that grows the government."
"The president has already promised a lot, but where is this money coming from?" Ryan's statement asked.