Mapping the Oldest Countries in the World
No population stays young forever.
by and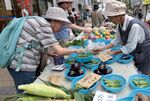 Hollywood may try to fight it, but it can't be avoided: Everyone ages. Some countries, though, may be learning that lesson faster than others.
In 2015, only Japan had more than one quarter of its population aged 65 and above.

By 2050, however, an estimated 44 other countries and regions will have joined the ranks. The data, which comes from UN statistics, show that Japan's 65+ population will rise from 26.34 percent in 2015 to 36.31 percent by 2050. Taiwan, with just 12.17 percent of its population 65 or older last year, is forecast to surpass even Japan in 2050, taking the No. 1 spot as the oldest country or region.

Globally, 16.03 percent of the global population will be 65 or over in 2050, about double today's 8.28 percent. 
Why does it matter? According to Bloomberg Intelligence Chief Economist Michael McDonough, "every country has a demographic sweet spot where the majority of the population is both producing and consuming, thereby contributing to GDP growth in two ways. A large young population may imply a country is yet to enter this sweet spot, while a large older population could cause challenges to economic growth."

The median age of each country's population is also inching higher, but again, it varies sharply across country lines. Globally, the median age will rise from 29.64 years in 2015 to 36.14 years in 2050.

China, where the (recently loosened) one-child policy has resulted in a very low birth rate for more than 20 years, is forecast to see its median age rise from 36.96 years in 2015 to 49.59 years in 2050, putting significant strain on its economy as the working-age population struggles to care for its aging countrymen. Many Sub-Saharan African countries with higher birthrates, like Niger, Somalia and Angola, will see their median ages remain below 21 years even into 2050, the data suggest.

This interactive StoryChart originally ran in Bloomberg Brief's Economics newsletter. See the original here.
Before it's here, it's on the Bloomberg Terminal.
LEARN MORE