Kravis Joins Demi Moore, John Legend in Backing Organic-Food Startup
by
Thrive raises about $20 million from convertible-note sale

Retailer sees itself as cross between Whole Foods and Costco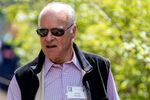 Thrive Market, an online seller of organic food and natural products, has added prominent Wall Street names to its list of investors, which already includes actress Demi Moore and Grammy Award-winning singer John Legend.
Henry Kravis, co-founder of private equity firm KKR & Co., and the family office of hedge fund titan Paul Tudor Jones have both invested in a convertible note that's raised about $20 million for Thrive over the last few months, according to the company. Thrive, which finished 2015 with about $50 million in revenue and isn't yet profitable, said it's raised $58 million since it was founded in 2013.
The company, which sells nonperishable items, calls itself an online cross between Whole Foods and Costco. Members pay a $60 subscription fee to access a portfolio of about 4,000 mostly organic and non-GMO products at discounted prices. The company says its customers tend to be younger female shoppers who are comfortable buying groceries online and are looking for more natural and organic options.

Middle-America Moms
"Our consumer in general is new to health and wellness," said Nick Green, who runs the company along with co-founder Gunnar Lovelace. "They're not an affluent consumer who has been shopping these products for a decade. They're budget-conscious, generally moms in middle America who want to explore the category."
Thrive, based in Marina del Rey, California, did a Series A funding round last summer that brought in about $30 million from Legend, Moore and other investors. Green said that because the round was oversubscribed, the company decided to open the convertible note in October. Kravis declined to comment.
Jones's wife, Sonia, said she wanted to invest in Thrive because of her work with the Sonima Foundation, a nonprofit she co-founded that promotes health and wellness in schools.
"When Gunnar Lovelace told me about Thrive Market's mission to make healthy living accessible and affordable to everyone, I thought it was wonderful and aligned so well with Sonima," Sonia Jones said in an e-mailed statement.
Crowded Field
Thrive is pushing into an increasingly crowded market with deep-pocketed competitors. In addition to Whole Foods Market Inc., supermarket chains such as Kroger Co. are stocking more organic items. Amazon.com Inc. also is stepping up efforts to sell groceries. And while online sales of apparel and electronics have surged, Internet sales of food and beverages represent only about 1 percent of the total U.S. market, according to Euromonitor International.
Thrive's Green, who said revenue is expected to double this year, hopes to draw customers who are willing to branch out beyond a single store for their weekly groceries. The company has about 180,000 members and recently expanded into private label, releasing its own organic coconut oil and tomato sauce.
"The days of the one-stop shop have come and gone," Green said.
Before it's here, it's on the Bloomberg Terminal.
LEARN MORE