Car Reviews
2016 Mercedes-Benz G65 AMG Is a $200,000 Way to Brag
The car is undeniably sexy, utilitarian, and powerful. But that price tag!
By and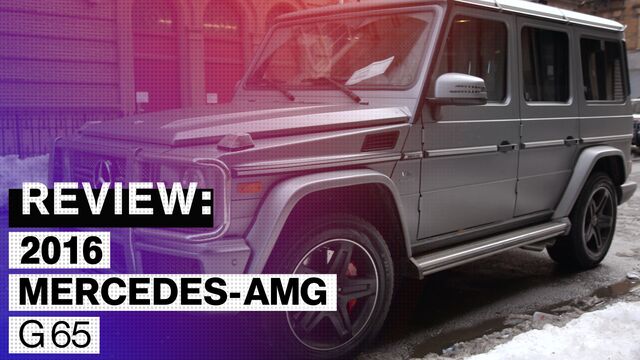 Several things about the 2016 Mercedes-Benz G65 AMG qualify as astounding.
Let's rattle a few of them off: You've got a giant 12-cylinder engine on a 5,000-plus pound rig that worked initially as military transport for the Shah of Iran—and, later, as the preferred vehicle for the Pope. It's heavy, but with a sprint time of 5.3 seconds it hits 60mph much faster than an Audi A4.

You've got a body style on the G-Class that has hardly changed in nearly 40 years. There have been some slight changes—mostly in paint and chrome options—to that aquiline face and gilded tank body but hardly anything anyone would consider an actual face-lift.
And most astounding of all, you've got the price tag: $223,575 for the one I drove last week through New York. Staggering, isn't it? (At 282,208.50 euros in the European market, the AMG G65 EDITION 463 costs even more.) You could buy a very respectable Aston Martin or Ferrari for that much dough.
Some have decried the famous G-Wagon, as it is called, for its stiff ride, small back seat, and deplorable gas mileage (11mpg in the city might have been fine in '79, but it doesn't quite cut it in 2016). Those are legitimate complaints.

But the G-Wagon makes no pretense to anything otherwise. And that, in its way, is refreshing.
Expensive, But Unforgettable
The G-Wagon family is one of the longest-running cars ever produced by Mercedes/Daimler, produced by the hundreds of thousands and lauded by cults of loyalists. Many people happily spend thousands of extra dollars on this, basically for the bragging rights of owning one, because while the G-Wagon AMG has many nice qualities, they don't all really add up to that $224K pricetag. The extra little bump in the numbers is the premium required to drive something with that "luxury heritage" (buzzwords that have lost much potency in recent years) branding behind it.
Here's the irony—when it comes at least to price, the closest competitor this old, already-collectable rig is so young it's not even on the streets yet. The $231,000 Bentley Bentayga, while arguably less adept off-road, is more luxurious inside and, while less powerful, a full second faster to 60mph. Even though it looks quite different, it's the closest thing in the market that to my mind captures the price-range, prestige and performance of the G-Wagon.

As for other competitors, you could compare the G-Wagon to a Land Rover—the closest SUV to it when it comes to old school iconography, legit European heritage, and inarguable cool, but which costs $100,000 dollars less. Or choose the SUVs from Porsche or BMW, which are also much less expensive, more ubiquitous, and, for many buyers, not nearly as alluring. G-Wagon does indeed carry over from its military days an undeniable swag that relative newcomer competitors can't quite capture.
All of this is to say, there's nothing quite like the G65 AMG. I'm not going to deny that I had strong feelings in favor of its looks before I drove it. I have a friend who has driven the same stainless steel version back and forth to Montauk for years (sometimes he even lets me drive!). I have fond memories of that car sitting on the grass and in the sand out there, or parked in front of his latest downtown party on the nights I venture out to join him. To me, the car signifies good times.
Old-School Looks
I like how tall and square it is—it reminds me of safaris and exploration and adventurers from past decades, when travel was glorious, unexpected, and a little dangerous. Don't be fooled - the double-crossbar chrome front bumper combo is mostly cosmetic—don't expect to tow anything attached to it—but it fences in the beast like a dark polished bit on a bridle. The square windows lined around the car allow maximum visibility (there could be a smidge more out the rear window, but the blind spot warning system and rear-view camera do help); their privacy glass adds to the general mystique that you'll achieve when you drive this. The high wheel covers, 21-inch five-twin light alloy wheels that are polished in ceramic with red brake calipers, and the wide stance all, communicate assurance, too.
Bulletproof windows don't come standard on this thing, but you'll probably feel like you already have them, anyway.
Interior Trim
The interior mixes primitive points with modern trim. In the G-Wagon, cigarette lighters and ash trays are still a thing, as is the manual turn-key ignition, which is getting rarer by the minute on luxury cars, and cup holders indented into the back side of the glove compartment, so they don't take up extra space. You'll half expect to have to roll down the widows by hand.

On the other hand, the carbon fiber panels across the dashboard and doors, the swank Napa quilted seats, and the easy, intuitive computer screen and entertainment technology seem fresh and relevant, designed well for the current age. The front screen is pleasantly small, so as not to distract; the AMG shifter remains discrete. They're unobtrusive rather than over-thought.
Also inside, the heated 10-way power front seats inflate or deflate on command—the only problem, of course, is that adjustability can't magically add room to the back seat, which was cramped even for the two sub-6'foot surfers I drove to Lido Beach last week.
The rear seat does fold down, however, into an easy split large enough to accommodate surf boards, wet suits and gear bags all within the back. And the headroom in the G-Wagon is possibly unequalled by anything that still has a top.
A Tight Ride
What does it feel like to drive? About what you'd expect: Tall, tight, and fast if hulky, at least after that initial turbo-charge lull. The 2016 AMG G65 has a 6.0-liter AMG V12 biturbo engine with 621 horsepower and 738-foot-pounds of torque. That's a lot of guts—for perspective, the much-less-expensive G63 gets 536 horsepower and 560 lb-ft from a twin-turbo 5.5-liter V8; the G550 offers 382 horsepower and 391 lb-ft from its naturally aspirated 5.5-liter V8. (Remember, all of these models look the same from the outside, except for some differential badging and option packages available with each.)
The G-Wagon has permanent all wheel drive, a 4-wheel electronic traction system, and three independent differential locks. (Yes, I did use those differential locks on the sand at Lido, though I suspect I would never use them if I owned this car.) You'll bump around a bit on the road when you drive it—the chassis is stiffer than you might expect—this is a hard hunk of diamond on wheels, after all. The brakes on this glam stagecoach are massive and rock-solid; its turning radius is about as wide as a football field.

The "G-Wagon" moniker stands for Geländewagen, which is German for "cross country vehicle." If you want, you can indeed take it across hill and dale—but if all you care about is doing that, you're better served saving a hundred grand and buying something solid from Land Rover, or Jeep, or Toyota.
If, however, you have the means to join the ranks of the G-Wagon elite, who brandish a collectible vintage design that is modern, functional and austere in its richness, this is your ride.
Before it's here, it's on the Bloomberg Terminal.
LEARN MORE