Trump Blasts 'Disgruntled' Former Employee Alleging Sexual Discrimination
The Republican front-runner disputes the details of the complaint.
By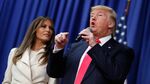 Donald Trump is vigorously defending himself against sexual discrimination allegations made by a former Iowa campaign worker.
In a Sunday phone interview with Bloomberg Politics, Trump described the fired field organizer, Elizabeth Mae Davidson, as "a disgruntled employee who wanted to come back to the campaign, but she didn't do a good job."
Davidson filed a complaint on Thursday with the Davenport Civil Rights Commission, the New York Times reported, alleging that men who worked for the Trump campaign were paid more than women in similar roles. In addition, Davidson said that when she and a female volunteer met the billionaire at a summer campaign rally, he remarked, "You guys could do a lot of damage."
Trump scoffed at Davidson's recounting of the exchange, and said he didn't recall making comments about her looks. "It's just not something that's in my vocabulary—not that it's the worst thing I've ever heard," Trump said.
Davidson, Trump said, had violated the terms of a non-disclosure agreement in her contract. Furthermore, Trump said he'd heard "some very strange reports about her. She goes around dressing like Melania, my wife."
The 2016 Republican front-runner, who, according to the latest Bloomberg Politics/Des Moines Register Iowa Poll, holds a slim lead in the Hawkeye State over Texas Senator Ted Cruz, portrayed the story as politically motivated, and took aim at the news organization that first reported it.

"This is the New York Times doing a number on the people of Iowa," Trump said.