Marco Rubio Plans to Finish Third Place in Iowa
The Florida senator is seeking to cement his status as a mainstream conservative with staying power after Trump and Cruz battle it out.
By and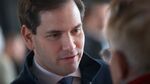 Marco Rubio has resolved to stay below the fray as Donald Trump and Ted Cruz fight it out for the top two spots in Monday's Iowa caucus, counting on a strong third-place finish to cement his status as the mainstream conservative to beat, his advisers say.
The Florida senator isn't expecting to beat Trump, the New York real-estate tycoon waging a populist campaign, and Cruz, who's positioned himself as a thoroughbred conservative, said Todd Harris, a strategist for the Floridian. 
"We'll be happy with a third-place finish," Harris said in an interview at a West Des Moines bar where Rubio held a rally Wednesday night. "We know we're not going to come in first or second. We're not even trying to. We're uniquely positioned to unite the party. It may not come into focus until much later in the process."
Rubio's lack of focus on winning one early state is a bet against history. No Republican in the modern presidential primary has gone on to win the nomination after failing to finish first in either Iowa or New Hampshire. He's hoping that exceeding expectations in Iowa will boost him in New Hampshire, where Trump dominates and where he's competing with several others for second place.
The Florida senator is holding three to five campaign events a day in all corners of Iowa, which holds the first-in-the-nation caucuses on Monday, airing television ads and appearing with political figures including the state's two U.S. senators. He speaks frequently of his Christian faith and says he's the best candidate to unite social and economic conservatives in his party.
Rubio has largely refrained from attacking Trump, though in his last public appearance before the Thursday debate that Trump boycotted, Rubio said the campaign had become "the greatest show on Earth" rather than a discussion of serious issues. Rubio didn't mention Trump in the debate itself.
Rubio's stump speech is heavy with criticism of President Obama and his would-be Democratic successors Hillary Clinton and Bernie Sanders. It doesn't mention other Republican candidates.
"The one person Hillary Clinton doesn't want to face is me," Rubio said in Burlington, Iowa. "This is why she consistently attacks me more than anybody else in this race."
In comments to reporters and at the debate, Rubio trained his fire on Cruz as a political opportunist and a hypocrite on the immigration issue.
"Ted is obviously feeling a lot of pressure, falling in the polls and losing to Donald," Rubio told reporters after a town-hall meeting in Marshalltown, Iowa.
He has demurred when asked about his own expectations in Iowa, insisting that he's trying to win every vote.
"I'm not a political consultant or a pundit," Rubio said in response to a reporter's question in West Des Moines. "I'm running for president of the United States."
The race for third place is largely between Rubio and Bush, a one-time political mentor of the 44-year-old senator, said Steffen Schmidt, a political science professor at Iowa State University.
"Jeb could come in third and continue but he has to run a better campaign," Schmidt said by email.
Rubio was in third place in the Real Clear Politics average of Iowa polls conducted between Jan. 18 and Jan. 27, with retired neurosurgeon Ben Carson in fourth place and Bush in fifth.
Team Rubio's outlook on the race has changed in recent months. As recently as mid-November, campaign manager Terry Sullivan had talked up the possibility of a Rubio victory in Iowa and New Hampshire. But Thanksgiving and Christmas came and went without a surge for Rubio, while Trump and Cruz dominated the top two spots nationally and in early states. Around the start of 2016, the usually sunny and optimistic Rubio darkened his tone to match the gritty mood of the GOP.
At a campaign event in Muscatine, Iowa, on Friday, Rubio said that if a Democrat wins, "we doom more children to a diminished country.
"If we win," he continued, "America has a chance to become better than it ever has been."
Many Rubio supporters interviewed at his Iowa events expressed hope that a third-place finish would solidify Rubio as the top contender among mainstream conservatives, as Cruz and Trump wage an increasingly heated and personal battle for the top spot.
"Trump and Cruz have a good chance of beating each other up and Marco has a good chance of being the nominee because of it," said Gary Pitts, 67, a property manager and investor who lives in Cumming, Iowa. "I like both of them a lot, but Cruz comes off a little angry. I don't think that's going to play well in the general election."
He noted that Arizona Senator John McCain finished fourth in the 2008 Iowa caucus only to become the Republican presidential nominee.
"It is not the history that who wins Iowa, wins the election," said Sonja Messer, 65, of Urbandale, who attended a Rubio rally in West Des Moines. "It is a sideshow between Donald Trump and Ted Cruz a lot of the time. I don't think that's the way to win an election."