Clinton Has Slim Lead Over Sanders in Iowa Poll
By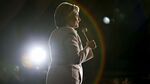 Hillary Clinton is holding onto a slim lead over Bernie Sanders in Iowa as Democrats prepare for Monday's caucuses, though an outpouring of young voters and those who say the system is rigged could enable Sanders to pull off an upset, according to a new poll.
Clinton leads Sanders, 45 percent to 42 percent, in a Bloomberg Politics/Des Moines Register Iowa Poll of likely Democratic caucus-goers released Saturday ahead of the nation's first nominating contest. Former Maryland Governor Martin O'Malley has 3 percent in the survey conducted Jan. 26-29.
Read the poll questions and methodology here.

Only one in three likely Democratic voters in the survey are first-time caucus-goers, who break decidedly toward Sanders. That compares with 60 percent in the final pre-caucus survey of 2008, when a wave of young voters and new participants helped Barack Obama overpower Clinton in Iowa.
In addition, the survey finds Clinton's support is deeper and sturdier than Sanders' across many areas, with 53 percent saying they'd be very enthusiastic with her as the party's nominee. Most tellingly, 83 percent of her voters say their minds are made up to support Clinton.
"Most of the ways you look at it, she's stronger than the three-point race would suggest," said pollster J. Ann Selzer.
Roxanne Caldwell Fee, 74, a retired teacher from Knoxville, said she was "very proud" that America elected an African-American man as president in 2008, "but now I want to have a woman in there." Four in five surveyed say it's time for a woman president.
"You gotta love Bernie," Fee said. "I would love to have him for Thanksgiving dinner, I really would. But I don't think he can do the stuff he wants to do. I think Hillary has a better chance."
The poll shows a contest divided largely along gender and generational lines, even though the two candidates are not that far apart in age: Clinton is 68, and Sanders is 74.
Clinton is beating Sanders more than 2-to-1 among all voters over 65 years old. She leads by 10 points among women overall, 47 percent to 37 percent. 
Yet there are clear generational limits for Clinton that still give Sanders a path to victory, which would deal a serious blow to Clinton's hopes of portraying herself as the inevitable nominee.
Clinton has spent millions of dollars and done extensive tactical and messaging work across Iowa to avoid a repeat of her third-place finish in 2008. But that hasn't stopped Sanders from gaining support from 50 percent of the state's so-called Obama coalition, a group that includes first-time caucus-goers, independents and people younger than 45. And that group comprises 55 percent of likely Democratic caucus-goers.
Sanders' message -- that Wall Street and the wealthy prosper disproportionately in a system stacked against average Americans -- has powered his rise from single digits here a year ago. By a ratio of more than 3-to-1, likely Democratic caucus-goers in Iowa say the system is rigged, and among that group, Sanders leads Clinton 50 percent to 39 percent.
Sanders also gets the edge when it comes to who caucus-goers feel cares more about them, 51 percent to 37 percent for Clinton. And two-thirds say it would be OK to have a president who, like Sanders, identifies as a democratic socialist.
The generation gap also continues to bedevil Clinton, even among female voters - with 35-year-old women the break point.
Women older than 35 support Clinton, while women younger than 35 say they're for Sanders, despite Clinton's chance to make history and her efforts to court younger women, including through a series of pop-culture endorsements.
"The generation gap favors Bernie; the gender gap favors Clinton," Selzer said. For Sanders, "the social fabric of youth sort of overrides the social fabric of women."
Mary Neuwoehner, 33, a saleswoman from Dubuque who plans to caucus for Sanders, said her husband's early support of him got her interested and that she never felt a special allegiance to Clinton as a woman.
"I, of course, support women and I consider myself a feminist, but I don't think we should elect somebody just because, 'Oh, we really need a woman,'" Neuwoehner said.
She said Sanders seems more honest and his calls for change and class equality appeal more to her, even though she believes Clinton is probably better equipped to get things done.
"If I were hiring somebody for the job, I would hire Hillary because she knows what she's doing, she knows what she wants to do and she knows how to get it done," she said. "But overall, I support Bernie's ideas and his ideals more than Hillary. I will be really-excited-slash-a-little-bit-nervous if Bernie gets the nod."
While Clinton has some of the same vulnerabilities with Sanders now that she had with Obama in 2008, Sanders does not have as broad a reach as Obama did.
In the final pre-caucus survey of 2008, Obama led in many categories, with both definite and probable caucus-goers and decided as well as persuadable voters. 
Nick Drenth, 21, a law student who attends college in South Dakota but who expects to make it back home to Iowa to vote, said he started out supporting Clinton but Sanders' stands on income inequality and reducing the gap between rich and poor won him over months ago. "I still like her as a candidate," Drenth said of Clinton. "She's very strong and I think she has the political experience and insider knowledge of how the White House operates."
Fifty-four percent of Democrats surveyed say they've become more comfortable over time with the scenario of Clinton as commander-in-chief, while 47 percent say the same of Sanders.
On Friday, the final day of polling, there was no measurable immediate impact from breaking news that 22 emails on Clinton's private e-mail server during her time as secretary of state contained top-secret information, a revelation Republicans have seized on to suggest she isn't fit to be president. Clinton told NBC News on Saturday that she didn't personally write any of the e-mails in question.
Former President Bill Clinton helps his wife, especially with older likely caucus-goers. He has an 86 percent favorable rating, higher than Hillary Clinton's 81 percent. Nearly three-fourths say he was a successful president with good ideas, while fewer than one in five say he represents the past and has a history of problems with women.
In addition, 57 percent say they don't care how Hillary Clinton handled her husband's extramarital affairs and accusations of sexual harassment or assault. Those who do care approved of her handling of these, by about 4-to-1.
Fee, the retired teacher, said, "She's been knocked around a lot and I really admire that she's able to stand up there and smile."
Fee also said she identifies with Clinton because "we kind of went through the same stuff" as women who came of age in the 1960s and battled the glass ceiling.
"I know a lot of people hate her. But, I think a lot of the young people, particularly women, have no idea what we went through."
Drenth, the law student, said that, "With my younger friends, I definitely see that not many support Hillary. I think part of it might be that the older generation grew up with her, alongside Bill," and have stood by her through decades of Republican attacks.
"It's kind of sad because, like I said before, she's a very qualified candidate," he said.
The survey of 602 likely Democratic caucus-goers was conducted by West Des Moines, Iowa-based Selzer & Co. It has a margin of error of plus or minus 4 percentage points.