London's Population Density Could Match Rio's, Report Finds
by
Assembly's Planning Committee sets out options to cope

City is on course to have 10 million residents by 2031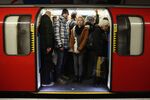 London could match the population density of Rio de Janeiro or Bangkok unless the city begins development outside its boundaries, a cross-party report warned.
The London Assembly's Planning Committee set out options for future development in a report written for whoever wins May's mayoral election. It said London, which last year exceeded its 1939 peak population of 8.6 million, is on course to expand to 10 million people by 2031.
To accommodate this growth, the city needs to build at least an extra 49,000 homes a year and only has the capacity to build an extra 42,000 a year. The committee declined to offer recommendations.
"Accommodating population growth on that scale is a major challenge," Nicky Gavron, the committee's chairwoman, wrote in an introduction to the report. "It is not just where we build the 50,000 new homes needed every year: it is also how we improve and expand public transport; where we locate businesses, schools, hospitals, shops; how we protect our open spaces and improve the quality of London's environment."
London currently has 5,206 people per square kilometer, Rio has 6,850 and Bangkok has 6,450. Paris only has 3,350 people per square kilometer.
Before it's here, it's on the Bloomberg Terminal.
LEARN MORE