Bank of Japan's Negative Interest Rate Decision Explained
by
Minus 0.1 percent applies to part of current account balances

BOJ follows other European banks into negative-rate territory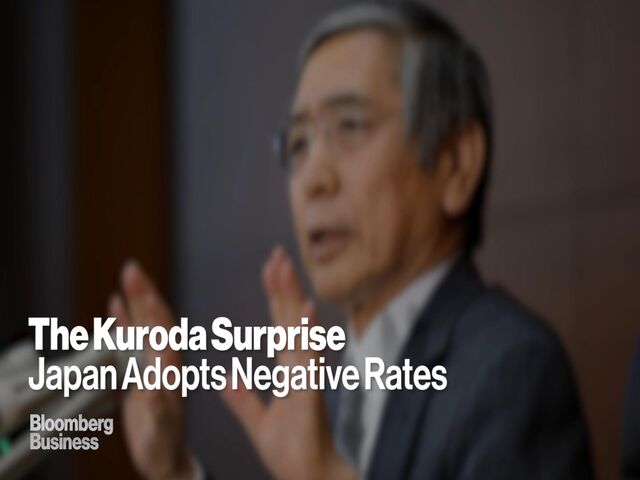 The Bank of Japan pushed interest rates below zero Friday, after years of keeping them at the lower end of the positive range.
The negative rates will be imposed on reserves worth about 10 trillion to 30 trillion yen initially and will apply only to new reserves that financial institutions deposit at the central bank, according to people familiar with knowledge of the matter. The change will take effect on Feb. 16.
The reduction will cause real interest rates to fall, with the goal of stimulating consumption and investment, Bank of Japan Governor Haruhiko Kuroda said in a news conference in Tokyo Friday. The new policy will push down rates for lending, although it won't have a negative impact for banks, he said.
The rate will be cut "further into negative territory if judged as necessary," the bank said in a statement following a two-day policy meeting that ended Friday.
Details:
The bank divided the current account balances that financial institutions keep at the BOJ into three tiers.
Existing balances will continue to have a rate of 0.1 percent. This will be called the Basic Balance.
A rate of zero percent will be applied to the reserves that institutions are required to keep at the BOJ, and also the reserves related to the bank's various lending support programs. This is called the Macro Add-on Balance.
A rate of minus 0.1 percent will be applied to any reserves not included in the first two tiers. This is called the Policy-Rate Balance.


The various loan support programs of the bank will be conducted with a zero interest rate. 
The BOJ said it's adopting the three-tier system so that there would not be "undue decreases in financial institutions' earnings."
The central bank released a question-and-answer format statement to explain the new system. In response to the question of how low the negative rate could go, the bank didn't provide a clear reply, yet said that similar multi-tier systems are used in Switzerland, Sweden and Denmark, which have negative rates of minus 0.75 percent, minus 1.1 percent and minus 0.65 percent, respectively.
Before it's here, it's on the Bloomberg Terminal.
LEARN MORE