PayPal, EBay Earnings Validate Pressure to Split Company
by
Shares of payments business advance most since July breakup

EBay struggles to lure shoppers from Amazon, other options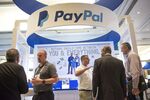 PayPal Holdings Inc. wooed investors by increasing its customer base and transaction volume, while former parent company EBay Inc. disappointed with declining sales on its core online marketplace.
The divergent earnings results reported Wednesday validated activist investor Carl Icahn's push to split the companies and unlock the growth potential of PayPal, which he called the "jewel" of the business.
PayPal's fourth-quarter revenue beat analysts' forecasts as the company added merchants, attracted new customers and processed more online payments, even as it faces increasing competition from rivals like Apple Inc. and Square Inc.
Chief Executive Officer Dan Schulman told investors the growing number of digital payment options in the marketplace is creating confusion, which benefits prominent brands such as PayPal. The company added 6.6 million new customer accounts in the quarter to 179 million.
"The more confusing it is out there, the more people turn to brands they trust," Schulman said.
EBay's Struggle
Meanwhile EBay, which separated from its fastest-growing unit in July, has had a tougher time facing up to opponents like Amazon. Sales stalled on the Web marketplace as shoppers went elsewhere during the holiday season even as total e-commerce spending increased.
"EBay has kind of lost its identity," said Steven Weinstein, an analyst at ITG Inc. in San Francisco. "Their pricing isn't special. Their service isn't special. They've lost their competitiveness."

EBay fell 12 percent, the biggest single-day drop since October 2008, to $23.19 at the close in New York. PayPal rose 8.4 percent to $34.24, its best day since the split.
PayPal is luring shoppers and merchants with its one-touch buy button, a convenient feature that streamlines shopping on smartphones. Spending on such devices in the U.S. is expected to rise 28 percent this year, according to EMarketer. PayPal anticipates 2016 revenue of $10.5 billion to $10.7 billion.
Missed Estimates
At EBay, marketplace revenue declined 5 percent in the fourth quarter from a year earlier. And the company's first-quarter profit and sales forecasts are lower than the average of analysts' estimates. CEO Devin Wenig is struggling to entice shoppers and merchants back to EBay at a time when they have increasing alternatives for buying and selling goods online and consumers expect fast, free delivery offered by Amazon.
The company is working to "sharpen its focus," he said, by adding product reviews to its site and aggregate products in a manner that makes it easy for shoppers to discover unique items.
"We want to simplify the world's biggest store so that it's easier to discover the things that are unique and it's easier to buy things," Wenig said.
Before it's here, it's on the Bloomberg Terminal.
LEARN MORE