NFL's Ticket Rules Said to Be Subject of Antitrust Investigation
by and
New York AG's probe centers on price floors in resale markets

Floors harm both buyers and sellers, Schneiderman says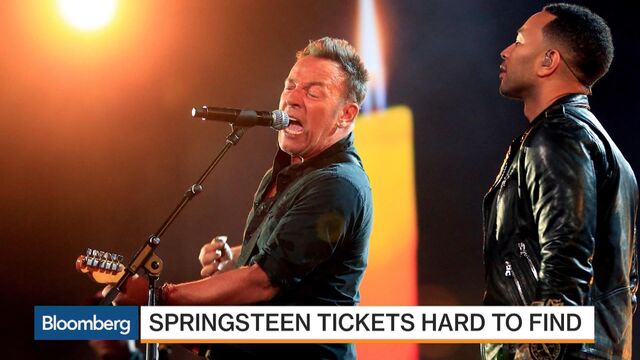 The National Football League is under investigation by New York Attorney General Eric Schneiderman for possible antitrust violations involving its ticketing practices, a person with knowledge of the probe said.
Schneiderman is looking into whether pricing rules for NFL ticket resales are illegal, said the person, who asked not to be identified because the probe isn't public. The league encourages people with tickets to sell to do so on the NFL Ticket Exchange, a marketplace operated by Ticketmaster. As part of the probe, the state official may request documents and data from the league over the pricing strategy, and could attempt to reach a settlement or file an enforcement action.
The Attorney General's investigation centers on resale price floors -- the practice of putting a lower limit on ticket prices to ensure that they don't go for less than a certain value. The NFL Ticket Exchange enforces these floors, usually preventing sales below the face value of the ticket, Schneiderman said in a wider report on the ticket industry to be released Thursday. Because some teams require ticket holders to use the league-promoted platform, even sellers who would be willing to sell for less can't, according to the report.
The practice also harms consumers, according to Schneiderman, who said the price floor established by the NFL Ticket Exchange can fool buyers into thinking they are paying market prices. It also deprives buyers of cheaper tickets for events when weak demand would normally bring down prices.
Eric Soufer, a spokesman for Schneiderman, declined to comment. NFL Spokesman Brian McCarthy didn't immediately return an e-mail seeking comment.
In addition to price floors, Schneiderman's report drew attention to practices that favor one marketplace over others. "Platforms that use price floors are at a natural competitive disadvantage compared to those that do not," Schneiderman said. "So if consumers engage in comparison shopping, they will tend towards gravitate to the platforms with a more open market."
The NFL has aggressively promoted the Ticket Exchange, which it launched in 2008 with Ticketmaster, a subsidiary of Live Nation Entertainment Inc. It says it is the safest way to buy and sell tickets, giving fans access to barcode-authenticated tickets. But teams also discourage fans from selling elsewhere, and at least one team has threatened to strip season ticket holders of their seats if they sell through other sites, according to the Denver Post.
Before it's here, it's on the Bloomberg Terminal.
LEARN MORE