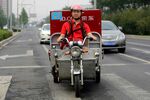 On a cold January afternoon shortly before Chinese New Year, a young worker is zigzagging on his three-wheeled motorcycle through Beijing traffic. He's rushing to deliver packages to consumers who have bought everything from socks to candelabra on Alibaba's Tmall shopping website. He says he can make as much as 6,000 yuan ($909) a month, if he works 12-hour-plus days, seven days a week. "The more you work, the more you can make. But it's truly exhausting," he says.
Beijing is crawling with motorcycle-mounted deliverymen, one sign of the rapid growth of China's service industries. Services grew 8.3 percent last year and for the first time generated more than half of gross domestic product, or 50.5 percent. Manufacturing rose only 6 percent. "If it hadn't been for the service sector, China's economy would be in a much worse state today," says Louis Kuijs, head of Asia economics at Oxford Economics in Hong Kong. He notes that all kinds of services have expanded quickly in recent years.

Service businesses are largely clean, unlike the factories China has long relied on. And services generate more jobs per yuan of output, an important benefit as the country shifts to a slower growth rate. The industry expands in tandem with higher household incomes as families spend more on education, insurance, restaurants, travel, and the other trappings of middle-class life. President Xi Jinping stressed in a Jan. 18 meeting with ministers and provincial officials the role of services, innovation, and household consumption as the new economic drivers.
China has a long way to go before it resembles the U.S. economy, which derives almost 80 percent of GDP from services. A large part of 2015's gain from services came from the financial sector. It grew 15.9 percent as China's stock markets soared in the first half of the year. "There was an enormous boom in trading volume, which had a huge impact on the growth of the services sector," says Christopher Balding, associate professor at Peking University HSBC Business School in Shenzhen. "But it is very unlikely it will be repeatable in 2016."
Transportation and logistics, which were boosted last year by fast-growing e-commerce, are likely to suffer this year as manufacturing continues to contract, says Andrew Batson, Beijing-based China research director at consultant Gavekal Dragonomics. About 60 percent of total services, including real estate, "are closely related to the industrial sector," he says. "That means services growth is going to be significantly slower this year than it was last year. GDP will also significantly slow down." He's predicting GDP growth could fall below 6 percent by yearend, from 6.9 percent for 2015.
Regulatory barriers to competition in finance, health care, and telecommunications, areas dominated by government-connected companies, hinder growth in services. "So much of it is still state-owned," says Andrew Polk, senior economist at the Conference Board China Center for Economics and Business. "The government needs to unleash the service sector."
China's State Council has made it easier for new companies to register by simplifying the approval process and ending minimum capital requirements. Policymakers have encouraged investment in tourism, health care, sports, and education in part through tax breaks. In the first 11 months of 2015, China registered 3.9 million new companies, up 19 percent, with more than four-fifths in services, according to the State Administration for Industry and Commerce.
China's service sector now employs more than 300 million people, the largest share of the country's 775 million workers. The fastest growth has been in low-end jobs in retail, restaurants, hotels, and real estate. Over the last five years, education and government jobs, most of which are filled by college graduates, have fallen from a little less than half of total service employment to a third or so. Finance's share has also fallen, says Albert Park, professor of economics at Hong Kong University of Science and Technology. "The higher-skilled sectors—telecoms, information technology, computers, finance, and business services—are still not a large share of the total service industry," he says. "And while some are growing, they aren't growing very quickly."
The bottom line: China's service industry grew faster than the economy in 2015, but stock market turmoil will likely hurt financial services.
Before it's here, it's on the Bloomberg Terminal.
LEARN MORE