Charlie Rose Talks to Donald Rumsfeld
The former U.S. defense secretary discusses the rules of engagement with terrorists and the game that inspired him to develop an app
By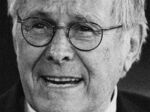 You're now an app developer: Churchill Solitaire. How did that come to pass?
I was U.S. ambassador to NATO in Brussels in 1973 and '74. And there was a very senior Belgian diplomat there named André de Staercke. While he'd been in exile in London [during World War II], Churchill taught him this game of solitaire with two decks. When we were at NATO together, he taught me the game. I've played it ever since. My wife and I play every day or two in the morning, after breakfast. And it would be ungracious of me to even comment on who's ahead. It's so complicated. Instead of seven piles, you've got 10. You've got to be thinking three, four, five plays ahead, and it's delightful.
How concerned are you about how Iraq has turned out?
Oh, my goodness. You know, repression works. A brutal dictator can impose his will and kill people and imprison people, and once that's gone, free people are free to do good things, and they're also free to do perfectly horrible things. Disorder in Libya, in Syria, in Iraq, in many countries in that part of the world is a serious problem. We're facing a long struggle against radical Islamists. And it's going to be years.
Are you surprised Iran's president has been very vocal about the danger of Islamic State?
Well, I've been asked the question "What happens if the sanctions are taken off?" And I said that Iran will continue—and probably have more resources—to support terrorism. They're the principal supporter of terrorist organizations. They've used their proxy in Syria for it. Sure, anyone with any sense is concerned about terrorism, particularly homegrown terrorism. And the fact that he's worried about some of that is fine. But they're supporting, actively, terrorist organizations.
What's the best way to counter Islamic State? What would be the Rumsfeld plan?
The first thing you do is recognize that this isn't going to be won with bullets. The basic principle of economics is if you want more of something, you reward it. If you want less, you penalize it. And what has to be done is the U.S. is going to have to provide leadership in the non-Muslim world and the Muslim world to get a coalition of people who are willing to find ways to squeeze off the money that's going to them.
And where's that money coming from?
Not governments. From people, largely. Second, you've got to squeeze off their recruiting. One of the ways to do that is to find out where the people are flowing from. But the second way to do it is to make sure it becomes increasingly clear that it's painful to be recruited—that they're not going to win. A terrorist can attack any place, at any time, using any technique. And it's physically impossible to defend every place at every moment of the day or night. Therefore, you have to find ways to dissuade them.
Of the presidential candidates, which one best reflects Donald Rumsfeld?
I don't even know half of them. I've watched every one of the debates, for both parties. My conclusion is that we don't need four more years of the last eight years, that a change in administrations would be a good thing for the country. I want to see someone in there who can provide this country and the world with leadership. If we create a vacuum in the world—and I believe we have—the result of that is the vacuum gets filled, and it gets filled by people who don't have our values.
How do you want America to remember Donald Rumsfeld?
I don't get into that. I think of the people who spend their time worrying about their legacy. … They should worry about doing the right thing for their country. All you can do is get up in the morning and do your best.
Watch Charlie Rose on Bloomberg TV weeknights at 6 p.m. and 9 p.m. ET.
Before it's here, it's on the Bloomberg Terminal.
LEARN MORE