Alibaba by the Numbers: Six Stats From Third-Quarter Report Card
by and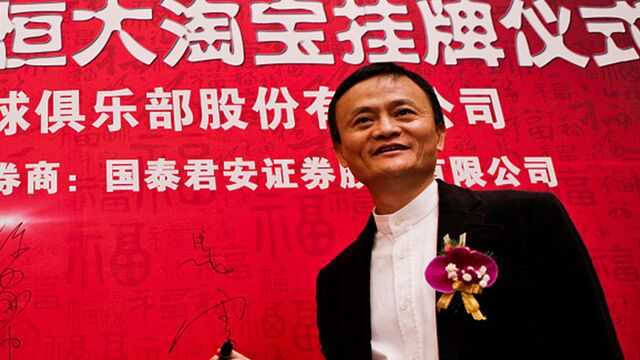 Alibaba Group Holding Ltd. reported third-quarter revenue that beat analyst estimates, bolstered by consumers taking advantage of online bargains amid a slowdown in China's economy.
Investors can scrutinize the numbers from Thursday's results for hints of what's to come for the e-commerce emporium:
REVENUE GROWTH: 32 percent
Sales of 34.5 billion yuan ($5.2 billion) outpaced expectations for a 27-percent rise. Fears about a decelerating Chinese economy, tumbling stock markets and weakening yuan weren't realized. Alibaba has been trying to counter the economic slowdown through acquisitions, deals to bring American brands onto its platforms and a deeper push into the countryside.

OVERSEAS SALES: 6 percent
The proportion of revenue Alibaba gets from outside China fell to 6 percent after falling the two previous quarters. Chairman Jack Ma said he wants to get more than 50 percent of sales from outside China within a decade, prompting the company to open offices in the U.S. and Europe, add a second data center in Silicon Valley for its cloud services unit and expand its online Alipay system to more than 100 countries.
MOBILE SHOPPING: 651 billion yuan
Smartphones and tablet computers once were weak spots for the company, generating only 2.3 percent of its gross merchandise volume in June 2012. In this quarter, mobile GMV, or the total value of all mobile transactions, represented 68 percent of the total. Alibaba upgraded its Taobao app by sending targeted advertising to users and integrating services such as food delivery and travel bookings.
STOCK COMPENSATION: 4.37 billion yuan
Share-based compensation to employees has eaten into earnings since Alibaba's record-breaking initial public offering in September 2014. The third-quarter compensation compares with the 3.16 billion yuan Alibaba paid out in the previous quarter to retain staff and keep them motivated. That included awards related to finance affiliate Zhejiang Ant Small & Micro Financial Services Group Co., which is controlled by Ma.
MA'S LOSS: $1.8 billion
The net worth of Ma has fallen by 6 percent to $27.3 billion since the company's last earnings report on Oct. 27. Alibaba lost almost $20 billion in market capitalization during that time as its shares reverted almost to the IPO price. Ma isn't alone, as the world's richest technology moguls lost an accumulated $45 billion in wealth during the past three months, according to the Bloomberg Billionaires Index.
IN THE CLOUD: 819 million yuan
Alibaba is betting on cloud computing and big data to drive future growth, announcing an agreement Jan. 20 to work with Nvidia Corp. and to enlist about 1,000 developers during the next three years. Alibaba believes governments and companies will demand more processing and storage capabilities, and it is pouring resources into quantum computing and data centers in China, Middle East and the U.S. The AliCloud unit could account for more than $1 billion of Alibaba's revenue by 2018.
Before it's here, it's on the Bloomberg Terminal.
LEARN MORE