The New Penn Station Doesn't Have to Be Pretty
Critics slammed plans for New York's Penn Station—but sometimes building for posterity shouldn't be the most pressing concern.
By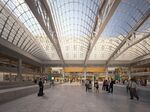 The first week in January, New York Governor Andrew Cuomo unveiled a $3 billion plan for a new Penn Station—the fifth such proposal in the past 25 years. "Let's be as bold and ambitious as our forefathers," Cuomo said in his announcement. The renderings were anything but an homage to past visions of grandeur. Although a 1999 scheme featured a hall with a two-floor concourse, two levels of additional tracks, and a spectacular steel-and-glass canopy, this one, with low-slung skylights, resembled the atrium at the Short Hills mall. The plans had more detractors than drunk Rangers fans taking the A train home after a game upstairs at Madison Square Garden. "Penn Station's 5th Redesign Fails to Charm Some Critics," read a New York Times headline. That was about the kindest sentiment expressed.
It would be a gross understatement to say the current Penn Station also fails to charm. It sees 600,000 subway, commuter, and intercity customers a day, three times what it was built to serve. A dirty, dark, crowded underground warren, it's a shadow of the original grand neoclassical structure designed by McKim, Mead & White in 1910 and torn down in 1963 when not enough people thought it was worth saving: We were all going to be getting around like the Jetsons soon enough. (Oops.) There was almost-instant regret: The demolition fueled the formation of the NYC Landmark Preservation Commission, which saved Grand Central Terminal from the same fate.
Cuomo's plan is, to use an architectural term, "meh." It's no better than all right. That's not necessarily a bad thing—maybe this one will get built. (Helping those prospects, there's more space than in past blueprints for retail, which developers would have rights to.) What it lacks in aesthetics, it might make up for by, you know, actually existing, a trade-off most New Yorkers—and anyone going through Penn Station on Amtrak—would accept. "Meh" design happens. Why did we expect city government to have great taste all of a sudden? How often does that happen?
Yes, in theory, we should be able to define good architecture as both ambitious and buildable, but it seems you have to choose one in New York City. Just look downtown to the transportation hub rising at the World Trade Center site. Its centerpiece—a striking, bone-white oculus by Spanish starchitect Santiago Calatrava—has been plagued by setbacks, including construction delays and a water leak. Twelve years after the Port Authority presented the design, it still isn't finished, and its budget has ballooned from $2.2 billion to $3.7 billion—twice the inflation-adjusted cost of erecting Grand Central.
This doesn't mean cities shouldn't try to build for eternity. But conjuring vast amounts of money and political will for ambitious municipal projects takes time and patience, and one could argue that 25 years is a long enough wait. Denver waited only—only!—10 years for the gorgeous redesign of its Union Station depot by Skidmore, Owings, & Merrill, the architects behind the new Penn Station layout. California is eight years along in the likely 20-year process of building a high-speed rail line between San Francisco and Los Angeles. But what's eight years? Talk to us when you've been through multiple commanders-in-chief.
It's one thing for leaders to see what can be done and another to see what has to be done—and do it. Cuomo's father, former New York Governor Mario Cuomo, is the one who said you campaign in poetry and govern in prose. The latest Penn Station renderings are decidedly prosaic, but we don't care about poetry when we're stuck on an Acela arriving from Washington and train traffic is preventing us from making a meeting in Midtown. Which is why, last fall, Cuomo and GOP presidential candidate and New Jersey Governor Chris Christie revived discussions about the Gateway project, an essential rail tunnel under the Hudson River that would relieve congestion. There's nothing sexy about it—and good thing.
Before it's here, it's on the Bloomberg Terminal.
LEARN MORE