Tech Startup Funding Frenzy Prompts SEC Scrutiny of Brokers
By
Chair White says agency concerned about `aggressive promoters'

Investors clamoring for stock as companies stay private longer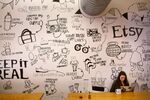 Slumping valuations for once-hot technology companies after they go public are drawing increased scrutiny from U.S. regulators.
Securities and Exchange Commission Chair Mary Jo White expressed concerns that some stock brokers may be painting too-rosy of a picture of private tech companies. Anytime there is a "significant" change in how much a company is worth after an initial public offering, it raises questions about the impact on investors who purchased unlisted shares, White said Tuesday.
"You have to make sure you don't have some very aggressive promoters taking advantage of that climate," she said in an interview after speaking at a securities conference in Coronado, California.
White's comments come as more investors are trying to figure out ways to pour money into Silicon Valley companies that are staying private longer. While startups face few obligations for what they must disclose about their finances, their shares are being marketed to people far less versed than venture capitalists on how to value startups.
'Insufficient Information'
Investors "may get very excited from an article or a blog and invest their money," White said at the Securities Regulation Institute. "You worry about them not getting sufficient or accurate information."
Square Inc., which went public in November, is now valued at $3.2 billion. That's significantly less than the $6 billion valuation the mobile-payments company achieved after a private financing round in 2014. Shares in file storage company Box Inc. have fallen 31 percent since it began trading last year, and online crafts marketplace Etsy Inc. has dropped 54 percent.
Some big investors have been reconsidering the lofty valuations they once put on tech startups, even before the companies go public. Fidelity Investments wrote down the value of its stake in photo-sharing application Snapchat Inc. by 25 percent last year, and investors in Dropbox Inc. have also marked down their stakes.
The SEC has separately been investigating whether brokers that help shareholders unload their stock in private companies may be violating federal laws. In some instances, firms have designed derivatives that serve as the financial equivalent of hard-to-sell stock, a structure that may not comply with a Dodd-Frank Act restriction on selling equity-based swaps to individual investors.
In a Nov. 25 complaint against one marketplace for unlisted shares, the SEC said private share sales may be illegal because they lack a registration statement and aren't done through a regulated broker.