Michael Kennedy, Who Fought for LSD Guru, Mob Boss, Dies at 78
Nancy Moran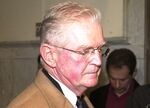 Michael Kennedy, the trial lawyer who represented LSD advocate Timothy Leary, a member of the Chicago Eight and a Sicilian mob boss in some of the most high-profile criminal and civil-rights cases in the second half of the 20th century, has died. He was 78.
He died Jan. 25 at Memorial Sloan Kettering Cancer Center in Manhattan, according to his wife, Eleanora.
"It would be impossible to be a criminal defense lawyer in the 60s, 70s, 80s and 90s without knowing Michael Kennedy," Keith Stroup, a lawyer who founded the National Organization for the Reform of Marijuana Laws, or NORML, said Tuesday in a telephone interview. "He almost always was defending the right of the individual against the enormous power of the state, and he was the best at it."
Over a more than 50-year legal career, Kennedy helped win acquittal for seven young Latinos -- known as Los Siete de la Raza -- charged with killing a San Francisco police officer in
1969. He successfully defended Black Panthers co-founder Huey Newton in the late 1970s on assault and murder charges. He also was part of the pro bono legal team representing five American citizens who in 1982 were acquitted of conspiring to smuggle guns to the Irish Republican Army, according to a New York Times story.
During the 17-month "Pizza Connection" trial of the mid-1980s, he was chief counsel to Gaetano Badalamenti, head of a Sicilian mafia family accused of laundering drug money through New York City pizzerias. At the conclusion of the trial, one of the longest in U.S. federal court history, Badalamenti was sentenced to 45 years in prison.
Early Life
Michael John Kennedy was born March 23, 1937, in Spokane, Washington, to Evelyn Forbes and Thomas Kennedy, according to his wife. He grew up in California's San Joaquin Valley, receiving a bachelor's degree in 1959 from the University of California at Berkeley and a law degree from UC Hastings College of the Law in San Francisco in 1962.
In 1963, he became an associate at the law firm Hoberg, Finger, Brown & Abramson in San Francisco, the same year he was drafted by the U.S. Army, according to a 1991 New York magazine profile.
He served as a first lieutenant at Fort Knox in Kentucky until 1965, solidifying an already anti-establishment worldview and fueling his subsequent legal work for conscientious objectors and resistors of the Vietnam War. Two years later, he became staff counsel for the National Emergency Civil Liberties Committee in New York, working to aid war protestors.
Chicago Riot
He represented Rennie Davis, a member of the Chicago Eight accused of conspiring to incite a riot at the 1968 Democratic National Convention in Chicago, both in an Illinois courtroom and before the House Un-American Activities Committee.
The following year, he returned to San Francisco to open a private practice. Leary hired him in March 1970 to appeal his 10-year sentence for possession of marijuana, according to the New York magazine article. Leary's bail appeal failed.
Kennedy tried cases in 36 states, according to an official biography provided by his daughter, Anna Safir.
He served as general counsel of High Times magazine since it was founded in 1974 by former client Tom Forcade. Kennedy was also an adviser to the United Nations Office on Drugs and Crime.
"He was always dedicated to ending marijuana prohibition," Stroup said. "During the 45 years of NORML, we've never had a stronger friend and ally than Michael Kennedy."
Trump Divorce
Among other famous cases, Kennedy represented Ivana Trump in her 1991 divorce settlement with current U.S. presidential candidate Donald Trump. A year later, Kennedy won a lesser sentence of manslaughter for Jim Mitchell -- co-founder of the O'Farrell Theatre, a storied San Francisco pornography venue -- in the shooting death of his brother Artie; and clemency for Jean Harris, the private-school headmistress convicted in the 1980 killing of her ex-lover, Herman Tarnower, a wealthy New York cardiologist whose book, "The Complete Scarsdale Medical Diet," was a best-seller.
In addition to Eleanora, his second wife, survivors include his daughters Anna and Lisa, son Scott and five grandchildren.
Before it's here, it's on the Bloomberg Terminal.
LEARN MORE