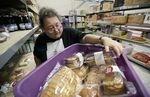 On a Tuesday in late November, the food pantry People to People is bustling with volunteers, donors, and clients. No sooner has one family lowered a turkey and a cartful of yellow-bagged groceries into the trunk of a car than another follows suit. The parking lot is full.
It would not be an unusual scene for a food pantry in the run-up to Thanksgiving, except that People to People is in Rockland County, New York, a bedroom community near the nation's largest city and one of the top 40 counties in the United States in household income. 

Still, Rockland, like many suburban counties, has gotten poorer. The percentage of individuals living in poverty here has grown by 5 percent since the millennium. Ramapo, a sprawling Rockland town along the New Jersey border with 126,000 residents, is one of more than a dozen New York City suburbs that had a greater proportion of residents living in poverty in 2010 than in 2000. More than 5,000 Ramapo residents depend on People to People to put food on their table every month. 
At a national scale, this breakdown of the old urban-suburban dichotomy has revised the narrative of the American city. Gentrification dominates the news, in some places more than crime, poverty, unemployment, or hunger.
The corresponding change in the suburbs has garnered less attention. It's further from media scrutiny, and in any case, harder to see. But if you want to understand the trials of suburban poverty, a food pantry is a good place to start.
People to People was founded 26 years ago in a Nyack garage, with the goal of collecting toys for poor families' Christmas celebrations. But those parents who came to pick up chemistry sets and board games were also going hungry. Government assistance for poor families had been cut during the Reagan administration. The previous year, George H.W. Bush had accepted the Republican presidential nomination with his "thousand points of light" speech, in tribute to America's volunteers and community organizations. 
Diane Serratore, the executive director of People to People, mentioned the president's speech to me when we met in her office. That spirit of grassroots charity is embedded in the organization's name, and in its function: Most of the food that's distributed here comes from local residents and businesses.
"There are pockets of poverty in Rockland, and the pockets are getting bigger," Serratore said. Even so, you can't travel far without finding yourself in the fabric of the classic American suburb, with its incumbent wealth and generosity. That's not a bad thing for a charity to have next door. The local supermarket offers a free turkey with a $400 purchase, and families drive their extras over as a matter of course.
The problem, according to Serratore, is that neighborly benevolence strains to meet the growing need. When she arrived at People to People in 2008, 4,000 Rockland residents relied on the charity to stock their refrigerators each month. Today, 15,000 people depend on the organization. That's 500 people in and out of this drab office park every day, and fully half of the county's "food-insecure" population.
"We live in fear of the day when all of them come here," Serratore said, "because we're not really prepared to serve 30,000 people a month."

Nationally, according to a September report from the advocacy group Fairshare, hunger increased more rapidly in suburbs than in cities during the Great Recession. Between 2006 and 2013, large cities saw the number of students eligible for free or subsidized lunch rise by 5 percent. In the suburbs, that number grew by 11 percent.
If suburban wealth alleviates poverty through donations, shared school districts, and well-funded public services, suburban geography exacerbates poverty's isolation.
"You have all the problems of urban hunger, and then you have the physical distance and access problems that are generally less of a problem in compact urban areas," explained Joel Berg, the director of the New York City Coalition Against Hunger and a Rockland native. Berg's mother, late in her life, qualified for food assistance, but physically wasn't able to reach the providers. 
Transportation is the primary challenge of getting food—and anything else—to the poor in the suburbs. "No one walks in Rockland County," Serratore said. In any case, the distances are too far. More than 4,000 patrons of People to People, for example, come from Haverstraw, a faded industrial town on the Hudson, nine miles north of the pantry.
"Rent comes first," explained Charleen Borchers, a Rockland resident who works at McDonald's. "Car insurance comes second. Then, at the bottom of the list, is food."
Some don't have cars, so they come in taxi cabs. What might seem an indulgence to an urbanite is a necessity in the suburbs, even if it cuts into the money saved by getting free groceries. Others carpool with family or neighbors, or take the bus.
"People who live in New York City, everything is there for them; they could walk. If you're living where I am, it's way out there," said Deirdre VanDunk. The single mother of two lives in Tomkins Cove, a 15-mile drive from the pantry.
VanDunk's monthly trip to the pantry takes an hour each way, which includes a bus ride and a half-mile walk down Route 9W, a busy road with no sidewalks. "It's kind of dangerous, but you do what you have to do for your family," she said.
Robert Maher, the director of the charity TOUCH, which provides food to Rockland residents with chronic illness, uses delivery vans to bring food to homes. It's an approach that has become popular in suburbs around the country, as food pantries try to adapt to the geography of need. 
TOUCH's paid staff makes it one of the county's more robust charities. "When so many other pantries are completely volunteer-based, you have to give them a lot of credit for just getting food out to people who are coming in," Maher said.
In 2011, Maher started Rockland Community Against Hunger, an attempt to coordinate the efforts of the country's 70-plus food charities. Rockland's constellation of small, local food pantries, staffed by volunteers and open one or two days a month, is partly a function of the loosely knit network of villages. It reduces the distance that residents need to travel.
Still, that decentralization creates gaps and redundancy, according to Maher, because food banks don't talk to each other. It also creates a confusing network for would-be donors, added Serratore. 
In many ways, those problems reflect a system of charity that is still relatively new, and adapting to a region that is not only poorer, but also more ethnically diverse than it used to be.
"When was growing up I wasn't aware of a single soup kitchen or food country in Rockland County," Berg said. "Last time I checked, there were more there per capita than in New York City."