Expect More Billion-Dollar Israeli Unicorns: Medved CEO
by and
OurCrowd CEO sees more exits topping $1 billion in Israel

High-tech companies raised record $4.43 billion in 2015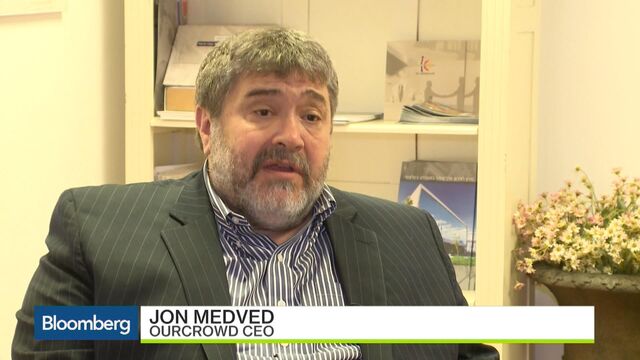 Jon Medved, CEO of Jerusalem-based crowdfunding platform OurCrowd that more than doubled its investments in the past year to $200 million, expects Israel to see more "startup unicorns"and larger exits as its entrepreneurs form their second and third companies.
Israel has already seen several exits of more than a billion dollars, including Mobileye NV, the Jerusalem-based maker of software for driverless cars that closed at a valuation of $6.5 billion in New York on Friday. 
"We hope to have some Mobileyes ourselves," Medved said in an interview at the OurCrowd Global Investor Summit this week. "This ability to harness the power of a crowd won't just get us up the value chain quicker, it will actually generate much bigger exits."
Israeli high technology companies in 2015 raised $4.43 billion, the highest ever and 30 percent more than the previous year, IVC Research Center said. It attributed much of the increase to higher venture capital-backed financing rounds, that jumped to $8 million from $5.9 million in 2014.
IVC Chief Executive Officer Koby Simana said the trend reflects a change in Israel's startup industry over all, which is seeing a growing number of medium-size companies with substantial annual revenue, which means more taxes for the government, more employment, and more funds.
"A few years ago it was very hard to find too many Israeli companies that had revenue in the tens of millions and now you see many of those," said Avi Hasson, head of the Economy Ministry's Office of the Chief Scientist. "We are seeing the Israeli high-tech industry maturing and we will see bigger and bigger exits."
Before it's here, it's on the Bloomberg Terminal.
LEARN MORE