Drug Agent's Near-Death in Afghanistan Highlights Risks for U.S.
By
Shot in head during 2011 bazaar raid, DEA officer back on duty

U.S. fight to curb Afghan opium output yielding mixed results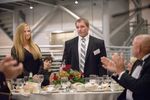 Joe Piersante's story of survival began on a clear afternoon in October 2011 when his elite team of U.S. drug enforcement agents was raiding an Afghan bazaar.
That's when the gunfire started, with bullets zinging so close he felt their heat on his neck. He remembers dashing for the rescue chopper. Then the world went black.
Piersante had been struck in the head by an armored-piercing round. By all accounts, he should have died. Instead, he survived and returned to duty at his elite unit. Nearly completely blind, he mostly performs administrative duties and delivers motivational talks, including two next month to agents in California. In refusing to quit, he has become a powerful symbol to fellow agents about overcoming adversity and recalling the sacrifices they made over more than a decade of war in Afghanistan.
'Fighting Spirit'
"Joe embodies what our agency is about, the core mission, to go wherever we have to go to attack organized crime and go after trafficking organizations," said Jack Riley, the agency's deputy administrator. "It really means something that he stuck around, that he continues to work. He embodies the fighting spirit. He never quits."
Piersante, 46, was one of scores of DEA agents deployed to Afghanistan after the U.S.-led war began in 2001. Their goal was to stem the county's massive opium trade, which helps fund the Taliban insurgency and terrorism. Agents have worked side-by-side with U.S. and allied military personnel, conducting joint counter-terrorism and counter-narcotics raids in full battle attire with helmets, flak jackets and automatic weapons.
Their efforts have yielded mixed results that have come at a steep cost: Three DEA agents have been killed in Afghanistan and another five wounded, including Piersante, who was the most seriously hurt. While DEA teams succeeded in individual raids, opium production in Afghanistan, a top producer of the narcotic, has reached an all-time high, according to U.S. law enforcement officials and a 2014 government report.
DEA Strategy
As the U.S. military shifts its posture in Afghanistan, the DEA is seeking to retool its strategy. At the height of the conflict, the DEA had as many as 100 personnel based across the country. That number is down to about a dozen.
President Barack Obama, who had pledged to reduce the U.S. troop presence to about 1,000 by the time he leaves office in 2017, now concedes that the Afghan military still needs U.S. help and that 9,800 American troops would stay there through the end of next year.
For his part, Piersante says he doesn't think too much about whether he made a real difference in Afghanistan. A self-described adrenaline junkie, he says he just loved his job -- and still does, even though it doesn't include the type of field work he once took on.
Drug Cartels
"My biggest thing, my satisfaction, is that if I can do my work I can help somebody," Piersante said. "If I can save one person from perils of drug addiction, that made it worth it. I'm still able to go out there and motivate other people and contribute."
The son of a Detroit police officer, he followed in his father's footsteps and joined the city's force after graduating from Adrian College, where he played football. While on the force, he met some DEA agents and was fascinated by their work. He became a DEA agent in 1997 and spent most of the next decade battling drug cartels and methamphetamine dealers in Arizona.
When he heard that teams of DEA agents were being created to work overseas, he applied and in 2009 found himself being trained to serve in a unit called FAST, for Foreign-Deployed Advisory and Support Team. The instruction by Navy SEALs and the exercises were tough, even for Piersante, a serious weight lifter who frequently entered body-building competitions.
"It was intense and it sucked," he said.
First Tour
Shortly after he joined the unit, he got a reminder of its hazards: Three agents were killed in Afghanistan when their helicopter crashed in October 2009 after a raid.
"That really hit home," he said. "That made it very real."
His first tour in Afghanistan, in 2010, involved raids with U.S. special forces against drug producers and dealers. Next, he was dispatched briefly to Honduras. By 2011, he was back in Afghanistan and conducting operations with Australian commandos. Things went well on their first few missions, but he had a bad feeling when they launched the raid in which he was wounded on Oct. 30.
It was in daylight and in a valley, which negated the agents' superiority at night thanks to their night-vision goggles and also gave the Taliban the high ground. He knew he was in real trouble when insurgents issued a call to arms over the drug bazaar's loudspeaker.
Skull Removed
He was shot in the right temple as he turned to fire on the hills with his machine gun. He was helicoptered to a field hospital, where a surgeon removed part of his skull to relieve pressure on his brain, and an eye-doctor spent hours vainly trying to save his eyesight. He was airlifted home, where he underwent a half-dozen reconstructive surgeries and spent months in rehabilitation centers.
Piersante learned again to walk with a cane, send e-mail using special software, even how to handle a firearm. He also went back to his favorite hobby -- weight lifting. At 5 feet 9 inches, he still has a chiseled physique and recently took first place in an amateur body-building competition.
A year after being wounded, he returned to work as a special agent with the FAST unit, which is based in the Virginia suburbs of Washington. In May, Piersante became the first DEA agent to receive the Secretary of Defense Medal for the Defense of Freedom, the civilian equivalent of the Purple Heart award for injuries sustained in combat.
Along with his administrative duties, Piersante teaches courses on how to handle risky overseas assignments. He recently gave a talk to a group of 18 U.S. government officials being trained for hazardous foreign duty and recounted his near-death experience.
"It's a dangerous job," he said to applause when he finished. "Keep your guard up. You never know what is going to happen."