politics
Clinton Confident There'll Be No Need for Bloomberg to Run
By
In two-billionaire contest with Trump, Sanders says he'd win

New York Times reported former NY mayor may run as independent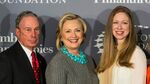 Democratic presidential front-runner Hillary Clinton said she'll save former New York City Mayor Michael Bloomberg the trouble of deciding whether to jump into the 2016 race by winning her party's nomination.
"The way I read what he said is, if I don't get the nomination, he might consider it," Clinton said Sunday on NBC's "Meet the Press." "Well, I'm going to relieve him of that and get the nomination so he doesn't have to."
The New York Times reported on Saturday that Bloomberg is uncomfortable with the rise of Vermont Senator Bernie Sanders, Clinton's principal Democratic challenger, and of the prospect of real-estate mogul Donald Trump being the Republican nominee. The 73-year-old billionaire has asked advisers to draw up plans for a potential independent campaign, the newspaper reported, citing people it didn't identify.
Clinton described Bloomberg as "a good friend." The former first lady and U.S. senator from New York is in a tight battle with Sanders going into the first nominating contests of 2016.
Oligarchy Move
Sanders said Bloomberg's entry into the race would help make his point about the outsized influence of wealth in the U.S. political process.
"If Donald Trump wins and Mr. Bloomberg gets in, you're going to have two multibillionaires running for president of the United States against me," Sanders said in a separate interview on "Meet the Press."
"And I think the American people do not want to see our nation move toward an oligarchy where billionaires control the political process. I think we'll win that election."
Bloomberg was a three-term mayor of New York, twice as a Republican and finally as an independent, and is the founder and majority owner of Bloomberg LP, parent of Bloomberg News.
'Not Friends'
Trump said on CBS News' "Face the Nation" that he would "love" to have Bloomberg enter the race.
"Michael's been a friend of mine over the years, perhaps we're not friends anymore," Trump said. "You know, he's wanted to do this for a long time and he never pulled the trigger. We'll see if he does right now. But I would personally love to compete with Michael Bloomberg."
Another Republican hopeful, New Jersey Governor Chris Christie, declined to weigh in on the strength of a potential Bloomberg candidacy. "When you're not a candidate you don't deserve to be evaluated," Christie said on CNN's "State of the Union."
Christie and Ohio Governor John Kasich both said Bloomberg had been "a good mayor" of the largest U.S. city. "We'll see what kind of message he has," Kasich said on Fox's "Sunday Morning Futures." "I think he'll make it a lot more interesting."
— With assistance by Laurie Asseo, Ben Brody, and Kathleen Miller
(
Updates with comments from Christie, Kasich starting in 11th paragraph.
)
Before it's here, it's on the Bloomberg Terminal.
LEARN MORE