Art
Why an Empty, White-Walled Room Costs $2 Million
Infinity rooms by contemporary artist Doug Wheeler are now available for commission.
By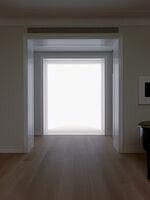 Artist Doug Wheeler's best-known artworks are seemingly empty white rooms.
Stepping into one of these milky environments is an experience at once disorienting and sublime. The white floors, ceilings, and walls, whose intersections are smooth and concave, create the illusion of an infinite space. Light pours in from some hidden source. You'd think you were in heaven—were it not for other humans shuffling around in special booties that everyone has to put on before entering, to keep things spotless. Dubbed the 'infinity room,' the installation marked Wheeler's New York solo debut, at David Zwirner Gallery in 2012, drawing long lines and critical acclaim.
Collecting the work, with prices ranging from $750,000 to $2 million (depending on scale and complexity), is another matter.
Making Nothing
"People have been asking us: 'How do I live with a Doug Wheeler?'" said Kristine Bell, senior partner at David Zwirner. The 76-year-old artist's third solo exhibition at the gallery opens on Jan. 23. "How to collect nothing?"
Streamlining the "how to" aspects of the work is the key. The gallery produced detailed installation manuals for potential owners of different works (yes, you'll need to hire a contractor). In the latest move, Zwirner, the gallery owner, built a Wheeler infinity room inside a 430-square-foot space in his Manhattan townhouse, where a private reception for the artist will take place on Saturday.
"Installation and performance art, which used to be considered something ephemeral and unique, can now be actively acquired," said Melissa Chiu, director of the Hirshhorn Museum and Sculpture Garden in Washington, D.C., which owns one of Wheeler's immersive environments. "Museums and private collectors do it on a regular basis."

New technologies and materials are helping bring to life Wheeler's ideas, many of which have been germinating for half a century, existing only as drawings.
In the past, each environment had to be built from scratch for every new exhibit, a daunting task for a museum. Now a fiberglass structure whose components can be put together as pieces of a puzzle makes it much easier for the work to be seen, dismantled, stored, and reinstalled. A dedicated gallery technician travels around the world with Wheeler to ensure that neon tubing and white paint seamlessly transform into ephemeral spaces.

Solo Exhibition
The upcoming exhibition, Encasements, focuses on Wheeler's more tangible work: five gleaming, 7.5-by-7.5-foot wall-mounted squares that seem to float in midair. Displayed in pristine alcoves, each balances light and shadow to spellbinding effect. Made in 2014 and '15, these works are reconstructions of the originals that were conceived and produced (and later damaged or lost) in the late 1960s.
"We are hoping that once people see this work and David's room, the idea of a commission would become more of a reality," Bell said. 
The 20 original encasements were the last physical objects Wheeler created before plunging deep into the object-free work with light and space. In his later pieces, architecture became the canvas, and light was the material.

In part because of his decision to quit the art world for a couple of decades, Wheeler's groundbreaking work is not as well-known as that of some of his peers—think of the immersive light environments of Dan Flavin, James Turrell, and Yayoi Kusama (whose own take on an infinity room was also a blockbuster at Zwirner). When Leo Castelli, then the industry's most powerful art dealer, asked Wheeler to make more encasements for a solo show in 1971, the artist turned him down because he wanted to focus on more immaterial works. For 26 years, starting in 1982, Wheeler didn't have formal gallery representation.
Zwirner first showed Wheeler's work in 2008. It was a milky white 1960s encasement from the collection of Helga and Walther Lauffs, whose art spent more than three decades at the Kaiser Wilhelm Museum in Krefeld, Germany.
"We got the encasement, plugged it in, and hung it on the wall," Bell said. "We completely missed the point."
At the time, there wasn't a dealer who could explain that the work is not complete without an architectural space around it. There wasn't a 20-page installation manual to instruct how to build this space, or a dedicated technician to tweak the lights and smooth out the coving. Which is why Encasements (on view until March 5) comes full circle for both the gallery and the artist. Wheeler said he's finally ready to share with the public his early work, almost 50 years after its creation. The gallery has a chance to correct its initial (unintended) misstep.
"We are finally fulfilling his vision for this body of work the way he's always imagined it," Bell said.

Before it's here, it's on the Bloomberg Terminal.
LEARN MORE