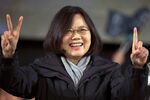 It was a total victory for Tsai Ing-wen. Not only did the Taiwanese opposition leader trounce the candidate of the ruling Kuomintang on Jan. 16 to become the island's first female president but voters also rewarded her Democratic Progressive Party with its first parliamentary majority.
Even as she celebrated, Tsai was addressing worries that her party's pro-independence stance would hurt the economy by alienating its biggest trade partner, China. "I won't provoke, and there won't be any accidents," she told supporters on election night.
China and Hong Kong account for about 40 percent of Taiwan's exports, making the mainland's slowdown especially painful. Taiwanese exports to China and Hong Kong dropped 12.3 percent last year. Taiwan's economy grew only 0.9 percent in 2015, according to economists surveyed by Bloomberg, down from an earlier forecast of 1.6 percent. The Kuomintang strategy of boosting growth by improving mainland ties turned off many Taiwanese. The KMT is "too close to China," says Tsai supporter Li Yu-ju, a graduate student. "Taiwan's economy overrelies on China."
Tsai, a graduate of Cornell Law School, wants to reduce that dependence. The island is in economic crisis. Slumping global demand for PCs imperils local companies such as Acer and Asustek that flourished during the PC boom. Smartphone maker HTC, once the premier example of a post-PC Taiwanese tech company, now has a market share of about 1 percent. Consumers around the world prefer Apple, Korea's Samsung, and Chinese brands Xiaomi and Huawei.
Mainland electronics companies have an increasing number of homegrown suppliers, prompting worries of what the Taiwanese call a "red supply chain" that will make Taiwan's companies irrelevant. In 2014 mainland chipmakers provided 29 percent of China's semiconductors, up from 20 percent in 2010.
"Many Taiwanese companies find it is too late to beat China and have no choice but exploring ways to participate in China's rise," Sanford C. Bernstein analysts Mark Li and David Dai wrote in a Jan. 4 report. Beijing-based Tsinghua Unigroup in October said it had agreed to pay $600 million for a major stake in Powertech Technology, a chip packaging and testing company based in Hsinchu, Taiwan's tech hub. In December, Tsinghua Unigroup unveiled plans to spend $2.1 billion for 25 percent positions in two other Taiwanese chip companies, Siliconware Precision Industries and ChipMOS Technologies. Taiwan's regulator in charge of foreign investment has said approval of all three is unlikely. During the campaign, Tsai warned of the threat mainland investment poses for Taiwan. The government will get around to easing restrictions on mainland investment in the island's chip companies, Li and Dai argue, but the chance of that happening soon is "nearly impossible."
Some Taiwanese see the whole island as a lab. "Taiwan is not so big, so we are able to use the nation as a test bed for new, innovative services," says Y.C. Chang, managing director of Far Eastern Electronic Toll Collection, part of the Far Eastern Group. The conglomerate teamed up with software services company Systex, server maker Mitac, and industrial motor producer Teco Electric & Machinery to design and operate an electronic toll collection system for Taiwanese roads, which started service in 2013. Today, Far Eastern is advising Vietnam on a toll system and has signed memoranda of understanding with Belarus and Kazakhstan.
Tsai spoke on the campaign trail of the need to focus on potential growth industries such as biotechnology, Web-connected devices, and defense. Tsai's running mate, Chen Chien-jen, is a Johns Hopkins-educated researcher in epidemiology and genomics, and the pair want to promote Taiwan as a center for medical research. Thanks in part to talk by Tsai and her running mate, Taiwan's biotech stock index has gained 1 percent over the past three months, compared with an 11 percent slump for the broader market.
Beijing is counting on Taiwan's economic weakness to keep Tsai in line. "Regardless of its relationship with the mainland, it's impossible for the DPP to reverse Taiwan's stagnant economy," editorialized the Global Times, a paper controlled by the Communist Party's People's Daily. "No matter what kind of political philosophy Tsai espouses, she has to face up to the reality. She should know she has limited options."
—With Adela Lin
The bottom line: China and Hong Kong buy 40 percent of Taiwan's exports, making it hard for the island to diversify away from China's sphere.
Before it's here, it's on the Bloomberg Terminal.
LEARN MORE