Can Networks Make Enough 'Murderers' to Keep Up?
We're in the middle of a true-crime boom.
By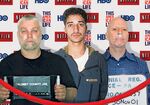 Unless you've been in solitary confinement the past few weeks, you know about the success of Netflix's 10-part documentary series Making a Murderer. It follows a Wisconsin man named Steven Avery who was exonerated for a sexual assault he didn't commit—convicted in 1985, he was released in 2003—only to be found guilty again in 2007, this time for a murder he might not have committed, either. It's gripping, shocking, nauseating, and addictive—for the procession of injustices on display and for the filmmakers' tenacity.
Netflix hasn't released audience numbers, but the series is a hit; more than 45,000 amateur sleuths are tracking the case on a Reddit message board. Even before it became available in mid-December, the doc earned comparisons to two other recent true-crime smashes: the podcast Serial (about a young woman's murder, supposedly at the hand of her high school ex-boyfriend, Adnan Syed) and the HBO miniseries The Jinx (in which the possible killer and definite weirdo Robert Durst appears to confess to several murders). Serial has been downloaded more than 40 million times since its debut a little more than a year ago; The Jinx pulled in more than a million live viewers.
The true-crime genre is as old as original sin, but it's no surprise it's flourishing. Stories of police brutality are frequently on the front page, and as much as these series are about individuals, they're also about the frailty of our justice system, with coerced confessions (which underpin one of Murderer's main storylines), questionable eyewitness accounts (on which Syed's case hinged), crooked cops, divided juries, racist sentencing guidelines, and no accountability for ruining or ending people's lives. None of these problems is new, and yet they provide perfect grist for us to sound off on social media.
But can Amazon.com, HBO, Netflix, the networks, and other content providers sate our appetite for injustice? It's difficult to imagine they're in a position to suddenly crank out these series. This kind of investigative work takes years to produce: Murderer documentarians Moira Demos and Laura Ricciardi began working on the project more than a decade ago as graduate students in Columbia University's film department, and it was in Netflix's production pipeline for two years. There are risks involved with such a big commitment of time and resources—namely, that it won't pay off. Murderer only looks like a no-brainer in hindsight. Reed Hastings, Netflix's chief executive officer, recently told Re/code that he recalled thinking, "This is going to be 8 or 10 hours about a murderer? I hope it wins some awards, because it's not going to be popular."
Part of what's made it so popular is, no doubt, the tenor of the show's storytelling: Murderer heavily implies that Avery is innocent and that his nephew, Brendan Dassey, who was also convicted of murder, is a victim of investigator misconduct. Within days of the saga's premiere, petitions to free them appeared on Change.org and the White House website. As of mid-January, the sites had received more than 400,000 and 100,000 signatures, respectively.
This is the kind of engagement that networks dream about—which helps explain why FX has made a major marketing push for its scripted miniseries about the O.J. Simpson trial, airing in February. And why SundanceTV just announced it would make The Staircase, its 2005 Peabody Award-winning series about a novelist on trial for murdering his wife, available on its website and app, with the first two episodes free. The network came to a conclusion that others will surely reach, too: There's no sense in making a new murderer if you can dust off an old one.
Before it's here, it's on the Bloomberg Terminal.
LEARN MORE