London's FTSE 100 Enters Bear Market, in Five Charts
by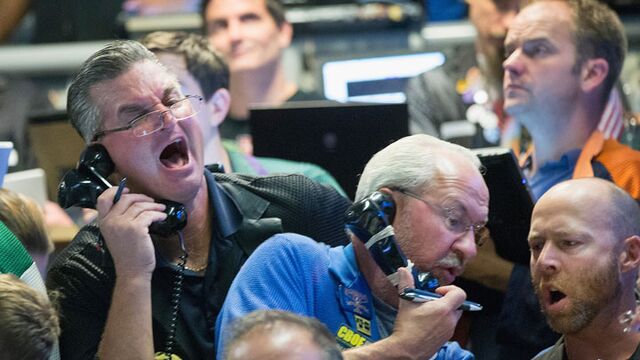 This time last year, Britain's equities were on a roll, heading toward a record. Now they're joining other European markets such as Germany, France and Spain in bear territory.
With Wednesday's 3.5 percent decline in the FTSE 100 Index, the gauge closed 20 percent below the record it reached last April. The chief culprits were miners and energy companies -- they account for 17 percent of the benchmark measure, and gauges tracking them have slumped to their lowest levels in more than a decade.
Here are five charts showing how the market got hit.
1. Commodities rout triggers a selloff in their producers

China's slowdown sent commodities to their lowest prices since at least 1991, forcing companies such as Glencore Plc and Anglo American Plc to shrink their operations and sell assets. Their shares have plunged more than 75 percent since the FTSE 100 hit its record on April 27. BHP Billiton Ltd., the world's biggest mining company, has lost 60 percent in the period and cut its full-year iron ore forecast this week.
2. Financial companies are also reeling

With a 22 percent weighting in the FTSE 100, financial companies are its biggest component. Losses tied to bad loans and the plunges in oil and emerging markets have pushed Standard Chartered Plc and Aberdeen Asset Management Plc down more than 50 percent since the April market top.
3. U.K. joins Germany, France and Spain

With a 9.1 percent drop this year, the FTSE 100 is actually falling into bear territory later than some of its counterparts. The regional Stoxx Europe 600 Index entered a bear market last week, while benchmark equity gauges of Germany, France and Spain are down at least 22 percent from their highs.
4. The FTSE 100 fails to remain at peak levels

The FTSE 100 hit highs in 1999, 2007 and 2015. In the first two instances, the slumps that followed surpassed 47 percent as the dot-com bubble burst and then the financial and European debt crises hit. Last year was the only time the index surpassed 7,000. It's now trading below its moving average for the past 200, 100 and 50 days.
5. Traders are preparing for a bumpy road ahead

A gauge tracking volatility expectations for the FTSE 100 has surged 66 percent this year and is approaching the peak it reached during the August equity rout. On the 24th of that month, the gauge of investors' nervousness jumped a record 54 percent to hit its highest level since November 2011.
Before it's here, it's on the Bloomberg Terminal.
LEARN MORE