Rocket Internet Fund Raises $420 Million for Startup Investments
By
Fund gets cash from U.S., European long-term investors

CEO Samwer sees competitive upside for Rocket, investors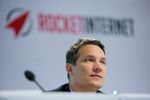 Rocket Internet SE raised $420 million in a new fund to invest in European Internet companies at a time when it has come under increasing pressure to reduce losses and as startups' access to capital may become tighter.
Rocket contributed $50 million and the company shareholders will recoup as much as 25 percent of the returns, provided investors in the fund reach at least 8 percent in annual returns, the Berlin-based company said Tuesday in an e-mailed presentation. European and U.S. investors seeking to back startups Rocket believes in have joined the fund, the Berlin-based company said.
"For startups, the access to capital may become more difficult in 2016," Chief Executive Officer Oliver Samwer told reporters in Berlin. "So in this time, it's an enormous competitive advantage to have a fund that's endowed like the biggest U.S. funds."
Rocket rose as much as 4.3 percent in Frankfurt, the steepest intraday gain since Dec. 29. The stock advanced 1.9 percent to 18.7 euros at 11:50 a.m. The stock has lost 34 percent this year.
The fund allows Rocket to keep investing at a time when startup valuations are coming under scrutiny around the world. The fund, which has a running time of about 10 years, means Europe's biggest startup factory and its backers can invest quickly even in "times of insecurity," Samwer said.
Rocket has copied successful U.S. Internet companies by hiring staff, providing management know-how and funding initial marketing -- a formula that has turned its founders, brothers Oliver, Marc, and Alexander Samwer, into billionaires.
Rocket won't pursue large deals in 2016 and 2017, focusing instead on growing its startups and getting some of them profitable, Samwer said. The CEO repeated his goal to cut losses this year and help at least three of Rocket's biggest startups show profit starting in the fourth quarter of next year.