De Blasio Reaches Deal to Save Central Park Horse Carriages
By
Agreement would provide for stables in the park for 75 horses

Deal falls short of mayor's pledge to ban all horse carriages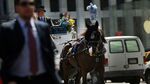 New York City's horse carriages will continue to traverse Central Park's roads after Mayor Bill de Blasio agreed with the drivers' union to limit their use to the park, in a deal that would save scores of jobs.
The issue, which arose when the City Council balked at de Blasio's efforts to impose an outright ban on concerns over the horses' welfare, became one of the mayor's most contentious political tests during the two years he's served in office. De Blasio received financial backing and campaign volunteers with his promise to get rid of the plushly appointed buggies "on day one."
The deal, effective June 1, reduces the number of licensed horses to 110 from about 180, and limits their labor to nine hours a day by Dec. 1, 2016. It calls for construction of a stable in Central Park by Oct. 1, 2018, which will house 75 horses. Inactive equines on furlough will be cared for outside the city. Drivers may also charge an extra $5 after 6 p.m. between Nov. 15 and Jan. 5.
It costs about $79 for a half hour and $129 an hour for a ride inside the park. Building a stable will limit the horses' exposure to exhaust fumes and the risk of collision with street traffic. The agreement would stop excursions outside the park for longer periods --time that can bring more than $200 a ride.
"We are pleased to have reached an agreement in concept on the future of New York's horse carriage industry," the mayor said in a joint statement with City Council Speaker Melissa Mark-Viverito and George Miranda, president of Teamsters Joint Council 16, which represented the drivers. "We look forward to working together on the final details."
At stake, aside from holding de Blasio to his word, were the jobs of 300 drivers, blacksmiths and stable hands, some of the most visible players in New York's $39 billion tourist industry. It also became a test of de Blasio's ability to balance his campaign promise with his ties to organized labor, a key constituency, whose leaders opposed a ban. City Hall demonstrations aimed at de Blasio by animal-rights enthusiasts pushing for a ban became a commonplace event.
"When we see the bill in print and understand all the details, we will have more to say," said Michael McKeon, a spokesman for the NYCLASS, part of a coalition of animal-rights activists who pushed for a total ban.
A de Blasio proposal to save driver jobs by replacing the horse-drawn carriages with electric replicas of old-fashioned cars was rejected by the union and by council members who said Central Park needs fewer vehicles, not more.