Cameron Toughens Language Requirements for U.K. Immigrants
by and
Migrants will have to show they are improving their English

PM raises link between language skills and threat of extremism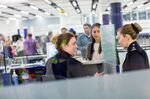 Prime Minister David Cameron said immigrants to the U.K. who can't show their language skills are improving may face deportation, as part of an effort to encourage Muslim women to learn English.
"At the moment, someone can move here with very basic English and there's no requirement to improve it over time," Cameron wrote in an article for The Times newspaper published Monday. "We will change that. We will now say: if you don't improve your fluency, that could affect your ability to stay in the U.K."
He said 190,000 British Muslim women speak "little or no English despite having lived here for decades," and that this meant they were ill-equipped to help their communities recognize and fight extremist ideas.
The prime minister didn't spell out how any new test would be applied, and said the focus was on encouraging women to learn English. It comes as Britain is tightening its migration rules and applying them more vigorously in an attempt to reduce the net number of people coming to the country.
Opposition Labour Party home-affairs spokesman Andy Burnham said Cameron's approach to challenging extremism was "clumsy" and was "unfairly stigmatizing an entire community."
"There is a real danger that it could end up driving further radicalization, rather than tackling it," Burnham said. "The prime minister is right to talk about empowering women but his emphasis should be on women of all faiths and none."
Before it's here, it's on the Bloomberg Terminal.
LEARN MORE