Looking Beyond Backyard Doesn't Pay for Singapore Rig Builders
by and
Keppel and Sembcorp Marine are set to post weaker results

Sete Brasil risks bankruptcy amid oil plunge, corruption probe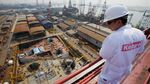 This week, two of Singapore's blue-chip companies could learn that it doesn't pay to expand too far afield.
Keppel Corp., the world's largest builder of oil rigs, may post its lowest annual profit in seven years when it reports earnings Thursday, according to analyst estimates. That same day, shareholders of key customer Sete Brasil Participacoes SA are set to discuss whether it should file for bankruptcy protection after plunging oil prices slammed demand for drilling equipment at the South American company, which is also embroiled in a corruption probe.
The earnings briefing may shed light on the extent of troubles the Brazilian client poses to Keppel and Sembcorp Marine Ltd., the world's two biggest oil-rig builders, which haven't been paid by Sete Brasil since November 2014. Analysts are predicting further profit declines this year for both companies, which have $10.5 billion worth of orders for semi-submersibles and drill ships from Sete Brasil at risk of being canceled, according to a Jan. 7 report from Nomura Holdings Inc.

"Brazil is a concern, especially if Sete Brasil goes bust," said Hugh Young, Singapore-based managing director at Aberdeen Asset Management Plc. "We're riding this out." Aberdeen is Keppel's third-largest shareholder, with 5.79 percent of its stock, according to data compiled by Bloomberg.
Sembcorp Marine closed Monday at its lowest level since March 2009, down 5.1 percent at S$1.315. Keppel hit its lowest intraday price since 2009 before rallying to close at S$4.85, up 0.2 percent. The city's Straits Times Index fell 1.4 percent Monday.
Kawasaki Heavy Industries Ltd. and Mitsubishi Heavy Industries Ltd., two other companies that have orders linked to Brazil, also declined.
"Sete Brasil continues to work to create a viable restructuring plan, with different shareholders currently analyzing different strategic scenarios to be pursued," the company said in an e-mailed response to Bloomberg. 
Keppel and Sembcorp Marine declined to comment ahead of their results.
Declining Earnings
Keppel will probably report net income fell 23 percent to S$1.45 billion ($1 billion) in 2015, and profit may drop further to S$1.36 billion this year, according to the average of seven analyst estimates compiled by Bloomberg in the past four weeks.
Sembcorp Marine warned in December it will post a fourth-quarter loss and a "significant decline" in 2015 profit. The company could report Feb. 15 that full-year net income fell 65 percent to S$196 million, according to the average of nine estimates.
Plunging oil prices have dragged down orders at Sembcorp Marine, which earns almost all its profit from building oil rigs, and Keppel, which gets about half its profit from that business. Crude oil fell below $30 a barrel last week and is speculated to slump as low as $15 in 2016. Both companies announced plans in 2010 -- when crude was trading above $80 a barrel -- to build new yards in Brazil.
"There's not much demand for oil rigs right now," investor Jim Rogers, who doesn't own shares of either Keppel or Sembcorp Marine, said in a Jan. 12 interview. Rigs from the two companies are used for very expensive types of oil, he said, while "explorers who are surviving on low-price oil don't need the type of equipment they're building."
Laggard Shares
Keppel had fallen 26 percent this year through Jan. 15, making it the second-worst performer on Singapore's Straits Times Index, which was down 8.7 percent. Sembcorp Marine was the third-worst stock, down 21 percent.

Most analysts tracked by Bloomberg don't recommend buying either stock: Nineteen out of 22 analysts suggest selling or holding Sembcorp Marine shares, while the figure is 17 out of 23 for Keppel.
Sete Brasil ordered six semi-submersibles from Keppel and seven drillships from Sembcorp Marine in 2011 and 2012, most of which will be built at their yards in Brazil. These account for about 40 percent of the companies' orderbooks, according to Nomura and DBS Vickers Securities. The first units from each builder are scheduled to be delivered in the first quarter of this year, according to a Jan. 5 report from Macquarie Group Ltd.
Impairment Charges
Keppel has already recognized about S$2 billion in revenue from the orders, while Sembcorp Marine has recorded around S$2.5 billion, according to a Jan. 11 DBS Vickers report. If Sete Brasil files for bankruptcy, the rig builders probably will need to revise their revenues and take impairment charges, it said.
Sete Brasil fell into financial distress after it was unable to secure long-term financing amid allegations of kickbacks to its only client, state-run oil producer Petroleo Brasileiro SA, or Petrobras. Creditors have repeatedly rolled over Sete Brasil's loans since October 2014 to help it stay afloat, according to people familiar with the matter.
Spreading Risks
The oil-rig supplier is among more than a dozen companies crippled by the 22-month corruption probe, whose impact in Asia is being felt beyond the Singapore yards. Kawasaki Heavysaid Jan. 14 it will book a charge of 22.1 billion yen ($188 million) and expects to cut forecasts for this fiscal year. Its Brazilian venture hasn't been paid in more than a year because of the corruption issues, the Japanese company said.
Mitsubishi Heavyis among five companies that will give up a 30 percent stake in a Brazilian venture building vessels for Petrobras, the Nikkei reported this month, without citing anyone.
Kawasaki Heavy dropped as much as 4 percent to the lowest intraday price since May 2014, and Mitsubishi Heavy declined as much as 4.2 percent to the lowest intraday level since January 2013.
About 70 percent of Keppel's and Sembcorp Marine's orderbooks are at risk of being canceled, according to Macquarie. Besides the projects for Brazil, another 30 percent of their orders are "speculative builds" for which customers haven't lined up jobs upon delivery, raising the odds the orders will be delayed or canceled, the brokerage said.
"The orderbook is deteriorating and you have bankruptcy risks," Alan Richardson, a Hong Kong-based money manager at Samsung Asset Management Ltd., said by phone.  Richardson said he hasn't invested in Keppel and Sembcorp Marine since November 2014, when oil prices started to collapse.
"These underlying currents aren't conducive for a sustained recovery in their operations," he said.
Before it's here, it's on the Bloomberg Terminal.
LEARN MORE