Air Wars
Bernie Sanders Beating Hillary Clinton on Broadcast TV
After months of having the airwaves to herself, Hillary Clinton is now being out-gunned by her chief rival.
By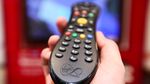 For most of the year, Democratic presidential candidate Bernie Sanders and his supporters have been running an insurgent campaign against Hillary Clinton's well-oiled and well-funded political machine. But when it comes to the pricey undertaking of dominating the broadcast airwaves, the underdog has become the top dog.
According to data from the ad tracking firm Kantar/CMAG, the Sanders campaign has purchased more broadcast television ad spots than the Clinton campaign during every week since mid-November. Most of the buys from both campaigns are in TV markets in or around Iowa and New Hampshire, where voting gets under way next month.

The Clinton campaign aired its first TV ads in Iowa and New Hampshire in August, and had uncontested control of the airwaves for three months. But ever since the Sanders campaign started buying TV ads in November, the Clinton campaign has lost that advantage: Week after week, the Sanders campaign has matched or exceeded the number of ad spots purchased in the early-voting states by the Clinton campaign.
The Clinton campaign has been using the spending disparity to solicit donations from supporters. "Right now, he's outspending us on TV in Iowa, which means that he's making his case to more voters right as they're starting to pay attention to this race," wrote Oren Shur, the Clinton campaign's paid media director, in an e-mail to supporters this week. 
Shur also referred to a new Sanders ad that criticizes Democrats who say "it's okay to take millions from big banks and then tell them what to do." The Clinton campaign has called it an attack ad, despite Sanders's pledge to never air a negative ad. "We need to close the gap to make sure Iowa and New Hampshire voters know the truth about Hillary," Shur wrote.
But campaign manager Robby Mook downplayed the ad wars during a call with reporters Thursday, saying it's hard to compare the two campaigns based solely on dollars spent or number of ads purchased overall. "Certainly in the last week we have been matched but they have not been outpointing us, per se, very much at all in the last month or so," he said.
The Sanders campaign has also noticed increased ad buying from the Clinton side. "I think that they have really come back and upped their buy and I think we're in much closer parity today than we have been the last few weeks," said Tad Devine, Sanders's senior media advisor. "I do think it's fair to say they are responding to the fact that in recent weeks we have had a resource superiority."
The difference between the two campaign's ad strategies—Clinton's six-month marathon versus Sanders's three-month sprint—reflect the different courses of their campaigns. While Clinton was always the presumed front-runner, Sanders has had to show that he is a credible threat to her, both in terms of support and resources. Devine said the campaign made a conscious decision not to follow Clinton on the air in August, acknowledging her campaign's money advantage.
"Because we conceded that resource superiority I think we had to make what, at the time, felt like a very difficult choice," Devine said. "It's a risk, but politics is a risk business, and you gotta decide what risks you're gonna take."
In the end those three months did not give Clinton a definitive lead in Iowa or New Hampshire, according to recent polls. Meanwhile, the Sanders campaign, meanwhile, ended the third quarter with $27 million cash on hand, enabling it to take to the airwaves in a major way.
And after an influx of donations that campaign officials say they receive following Clinton's attacks on Sanders's health care plan and gun stance, Team Sanders it not only determined to remain competitive with Clinton on TV in the early states, but is thinking about expanding the number of states where its advertising.
"I don't think we're going to concede any advantage to them in terms of placement in Iowa or New Hampshire," Devine said. "Whether we go beyond them, that remains to be seen, but we're certainly not going to allow them to outspend us in either of those places."
(Contributing: Jennifer Epstein)