Climate Change
Tom Steyer Battles Green Frenemies in the Pacific Northwest
Billionaire anti-carbon crusader squares off against proponents of a rival proposal in Washington state.
By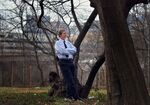 Billionaire Tom Steyer went big on the 2014 elections. He poured more than $65 million into a super PAC, NextGen Climate, with the goal of electing candidates willing to support limits on greenhouse gas emissions. The results weren't great: Four of the seven U.S. Senate and gubernatorial candidates NextGen backed across the country lost. In Washington state, where the group put $1.3 million into five legislative races, hoping to deliver a majority to climate-minded Democratic Governor Jay Inslee, not a single candidate won.
That hasn't stopped NextGen from getting involved in the 2016 elections. In November the group contributed $80,000 to the Alliance for Jobs and Clean Energy, which counts many of Washington state's largest unions and environmental groups as members. The alliance plans to begin gathering signatures for a voter initiative that would require the largest polluters to pay a mitigation fee for each ton of greenhouse gas released, and invest the proceeds in clean energy. The idea echoes NextGen's ads in presidential primary states urging a shift in U.S. energy production to 50 percent renewable resources by 2030. "It's the most extraordinary coming-together that I have ever seen" in 25 years, says Gregg Small, president of the alliance's governing board and executive director of Climate Solutions, a Seattle-based nonprofit.
The trouble is, there's already competition. In December a group of climate activists submitted enough signatures to qualify a measure, known as Initiative 732, for legislative consideration. Led by economist Yoram Bauman, the proposal pairs a $25-per-ton tax on burning fossil fuels with offsetting reductions of other taxes. The idea is to shift taxes rather than add to them. It would raise $2 billion a year—from drivers, who might pay an extra 25¢ per gallon of gasoline; households likely to see higher utility bills; and manufacturers, through increased energy costs. That would be balanced by a penny-per-dollar cut in the sales tax, elimination of some business taxes, and a credit for low-income families. "I like the efficiency of it," says Bauman, who holds a Ph.D. from the University of Washington and specializes in writing cartoon-illustrated textbooks on climate change and economics. "It's simple and transparent."
Bauman has been pushing for a carbon tax since 1998, when he co-wrote a book, Tax Shift, proposing the idea. It was adopted a decade later by British Columbia and embraced last year by Alberta, known as the Texas of Canada because of its oil resources. The British Columbia tax is credited with reducing fossil fuel use 16 percent in its first five years. Bauman, who's written a haiku to promote Initiative 732, hopes to attract conservative voters who oppose new spending but also worry about climate change. "We're serious about doing something that's going to get bipartisan support," he says.
Talks to unite Bauman's initiative with the Steyer-backed alliance plan fell apart in late December. Alliance supporters accused Bauman's group of trying to sneak through tax cuts under the guise of climate change. They pointed to one state analysis that showed his measure might reduce tax revenue by $675 million over four years. Bauman's backers responded that the attacks only gave credibility to conservative claims that climate change is a left-wing Trojan horse to expand government. A NextGen Climate spokeswoman says: "We are still working on our 2016 plans and have not committed to any specific campaign or path to the ballot in Washington." An alliance spokesman declined to comment. Its governing board is weighing its options, which include pressing ahead, teaming with Inslee to cap emissions via executive orders, or dropping out entirely, according to one person familiar with the discussions. "Trying to beat the fossil fuel industry is really difficult," Small says. "It's harder to do when we're not all together."
The bottom line: A Washington state climate-change initiative backed by Tom Steyer's NextGen Climate super PAC faces a rival proposal.
Before it's here, it's on the Bloomberg Terminal.
LEARN MORE