Taiwan's Tsai on Track for Historic Win in Presidential Election
By
Opposition leader would be island's first female president

Ruling Kuomintang oversaw improving ties with mainland China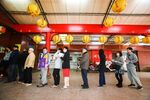 Taiwan edged toward historic change Saturday, as voters headed to the polls in an election that could install the island's first female president and oust the party that has overseen warming ties with mainland China.
Tsai Ing-wen, the head of the opposition Democratic Progressive Party, has for months been seen as the favorite amid discontent over the stagnant economy, and the ruling Kuomintang's Eric Chu would need a huge late surge to win the presidency. The DPP is also vying for control of the 113-seat Legislative Yuan, which would shut the KMT and its allies out of power for the first time since Chiang Kai-shek led them across the Taiwan Strait during the the Chinese civil war. 

Tsai had 59.6 percent of the vote, as of 6:24 p.m., with results tallied from 23 percent of polling stations, according Taiwan's Central Election Commission. Chu trailed with 28.4 percent. The polls closed at 4 p.m.

At stake is a relationship with China that outgoing Taiwanese President Ma Ying-jeou has pushed to new heights even after his cross-strait trade policy sparked a student-led protest movement. While Tsai has pledged to maintain ties with Beijing, the DPP's charter supports independence from the mainland. A DPP or "pan-green" sweep of both the presidency and the legislature could pose new challenges to both China, which considers Taiwan a province, and the U.S., which is obligated to defend it from attack.
"This could be a signal to China that there's a stronger anti-China sentiment in Taiwan now," Alexander Huang, a senior associate at the Center for Strategic and International Studies, told Bloomberg Television on Friday. The DPP is taking a different approach than the KMT in "trying to get closer to the U.S. and Japan, and with a coalition of democracies, rather than emphasizing cross-strait relations, even though most Taiwan voters know we need to strike a balance."
A TVBS survey conducted before Saturday's election suggested that the DPP would win 59 legislative seats -- two more than a majority -- compared with 42 for the KMT. The upstart New Power Party was expected to win seven, according to the survey of 991 voters conducted Wednesday and Thursday.
Fears of Chinese encroachment on Taiwan's autonomy was thrust into the last hours of the campaign after a 16-year-old Taiwanese singer in a South Korean pop band issued a video apology for appearing on TV holding the island's flag. In the video, the singer, Chou Tzu-yu, read from a script and affirmed her support for the controversial "one China principle" that has underpinned talks between the Communist Party and the KMT. Under it, both sides have agreed there's only one China, even if they disagree what that means. 
National Flag
A pro-Beijing Taiwanese singer, Huang An, had accused Chou of supporting independence by holding the red-white-and-blue banner, the Chinese national flag before the founding of the People's Republic of China in 1949. 
Tsai and Chu both expressed support for Chou while voting Saturday morning. A spokesman for the Taiwan Affairs Office in Beijing reiterated that the mainland wouldn't interfere in the election, according to the official Xinhua News Agency.
Investors are watching the results to gauge the prospects of Taiwan's economic ties with the mainland, which buys 40 percent of its exports. The possibility of political uncertainty has prompted the top-performing local stock fund, Franklin Templeton SinoAm Conventional Industry Fund, to cut its holdings, money manager Vincent Yang said Wednesday.
Taiwan's next leader will have to walk a tightrope between preserving the island's democracy and peace with China. He or she will also bear the task of resuscitating an economy expected to have grown last year at its slowest pace since at least 2009. Unease over stagnant wages and rising home prices are a major reason why voters have shunned Ma's party in favor of Tsai, whom he defeated four years ago.
KMT Rule
Erin Lin, who's in her early 30s, flew back from the U.S. to vote for the first time in eight years.
"Under KMT rule, the people who have grown their wealth are just a few families, and not most people," Lin said outside a polling station in Taipei's Xinyi district after voting for Tsai. "If Taiwan had developed its economy well, I wouldn't have gone to America."
Expectations of Tsai's victory have shifted the spotlight to the legislature, where the KMT's "pan-blue" coalition has always held power. The party is fighting to save a seven-seat majority in the chamber, which includes 73 district constituencies, 34 at-large seats and another six reserved for ethnic minorities.

Some smaller, emerging parties may also gain a foothold. If the DPP falls short of an outright majority, it would need to seek support from groups such as the New Power Party, which aims to normalize Taiwan's status as a country and improve income equality, to build a coalition. The party is led by a 39-year-old death metal singer Freddy Lim. The newcomers' electoral success may pull the DPP to the left, said George Tsai, a politics professor at Chinese Cultural University in Taipei.
"A loss would be a warning to the KMT," said Wang Chi-wen, a 48-year-old advertising worker, said after voting for Chu. "In governing, you can't use such old-fashioned ways. Young people want innovation. That's why they might lose this time."
The Chinese Communist Party's response will be closely watched. It passed a law allowing an attack to prevent secession in 2005, when the last DPP president, Chen Shui-bian, sought a referendum on statehood.
"Tsai won't provoke China for sure, but she won't satisfy its demands," George Tsai said. "Beijing already has more leverage against Taiwan. It's in no hurry to rock the boat. But it will of course put pressure on her."