Renault Tumbles After Government Raid in Emissions Probe
by , , and
Headquarters, two other sites targeted, company says

Shareholders can `rest easy,' French Environment Minister says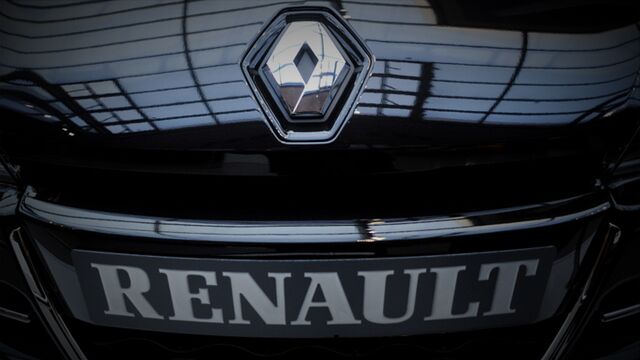 Renault SA offices in France were searched by government fraud investigators as part of a probe into vehicle emissions, raising the specter of a VW-type scandal and sending the carmaker's shares slumping the most in almost seven years.
Agents from the Economy Ministry's fraud officevisited Renault's headquarters as well as sites in Guyancourt and Lardy near Paris last week. The French carmaker is cooperating fully with the investigation, the company said in an e-mailed statement Thursday, without providing details on what may have been seized. French peer PSA Peugeot Citroen said it wasn't raided and no anomalies were found in its vehicles.
Automakers have been under increased scrutiny since September, when U.S. regulators said Volkswagen AG cheated for years to make its diesel cars appear cleaner than they are. The rigged engines were installed in 11 million vehicles worldwide, sparking lawsuits by the U.S. Department of Justice and state attorneys general as well as investigations in at least seven countries. 
As part of the backlash, French authorities started a probe in September into whether VW deceived customers about the emissions levels of its diesel cars and promised to expand the investigation to cover all carmakers. Separately, the country's environmental regulator began randomly testing vehicles to check differences between lab results and real-world emissions.
Random Tests
Four Renault models had been tested by the end of last month, part of the effort to screen as many as 100 cars -- including 25 from Renault, the company said. No fraudulent systems have been found on Renault cars, and shareholders and employees should "rest easy," Environment Minister Segolene Royal said at a news conference Thursday in Paris after Renault's stock slumped.
"That's good news for Renault," the company said in its statement, seeking to quell concerns. Still, real emissions were found to be higher than in test conditions for models from Renault and several non-French carmakers, Royal said.
Authorities have visited several carmakers, and there's no specific stigma attached to Renault, Economy Minister Emmanuel Macron said at an event in Berlin. The Renault case is in no way comparable to that of VW, said Macron, who declined to name the other automakers that were visited. The French state is the biggest shareholder in Renault, with a 19.7 percent stake.
Renault dropped 10 percent to close at 77.75 euros in Paris after falling as much as 23 percent. Peugeot fell 5.1 percent. Other European automakers declined as well. Fiat Chrysler Automobiles NV tumbled 7.9 percent in Milan and Daimler AG slipped 3.6 percent in Frankfurt.
"If some other problems than Volkswagen occur, it's not good news for the whole
automotive industry," Gilles Le Borgne, Peugeot's executive vice president for research and development, said in a Bloomberg TV interview. "But as far as PSA is concerned, we have no problem. We want that to be crystal clear."

"With the dust starting to settle, this looks less impactful than the initial market reaction had implied," Dominic O'Brien, an Exane BNP Paribas analyst, said in a note. "From what we can determine from the release, the raid was an exercise to validate the findings of an independent technical commission, which essentially cleared Renault of using an explicit defeat device." Still, there will be "a cloud hanging over the stock" until the investigations are over, he said.
Unlike its larger German rival, Renault doesn't sell cars in the U.S., where emissions standards are tougher. VW faces tens of billions of dollars in potential penalties in the U.S. Still, diesel engines are crucial for French automakers -- at the time the VW scandal broke, the technology accounted for at least 60 percent of their European sales.
The facility in Lardy is Renault's main site in France for engine development, said Florent Grimaldi, an official with the CGT union there. The searches were earlier reported by Agence France-Presse.
"For several months, work has been ongoing on emission tests at the Lardy site and the departments that were raided were those of certification and adjustment of engine control systems," Grimaldi said. "We have been asking for more resources for months at Lardy to work on pollution control."
Before it's here, it's on the Bloomberg Terminal.
LEARN MORE