Goldman Sees 11% Upside in S&P 500 After an 'Emotional' Selloff
by and
Fair value for the Standard & Poor's 500 Index is 2,100

Fed won't `apply brakes' quickly, recession not likely: Cohen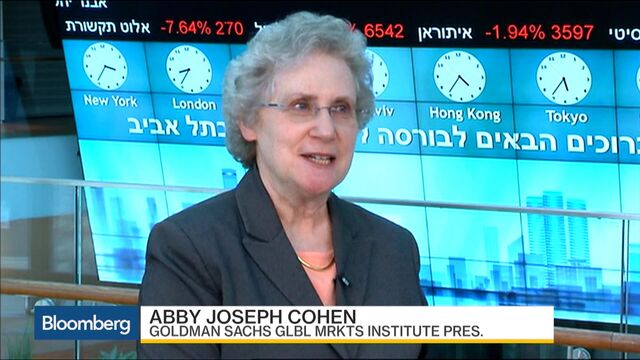 The plunge in U.S. stock markets are an "emotional response" obscuring expansion in both the American economy and corporate profits, said Abby Joseph Cohen, president of Goldman Sachs Group Inc.'s Global Markets Institute.
The fair value for Standard & Poor's 500 Index is 2,100, Cohen said. The benchmark last closed above that level on December 1 and has fallen 10 percent since, after turbulence in China's stocks and currency spurred a global market rout.
"What is happening is really very much an emotional response," Cohen told Elliot Gotkine on Bloomberg Television. "We need to put things into perspective. Stocks are probably the best place to be."

The S&P 500's worst-ever start to a year sent the index down 7.5 percent in 2016, near lows seen during a rout over the summer. An index tracking volatility is on track for its biggest monthly gain since August.
With data showing the U.S. economy expanded across most of the country in the past six weeks, Cohen said she prefers stocks to bonds, echoing Goldman colleague Christian Mueller-Glissmann's comments that investors should turn back to equities once they fall even more.
"The underlying performance of the U.S. economy is actually quite good " Cohen said. "We see economic growth, we see the economy continuing to expand. We also see corporate profit continuing to grow."
In December, the Federal Reserve raised interest rates for the first time since 2006 as unemployment fell to 5 percent, half of its recession-era high of 10 percent in 2009.
"I don't think this is a Fed that is anxious to apply the brakes too quickly," she said. "We don't see a recession coming."
Before it's here, it's on the Bloomberg Terminal.
LEARN MORE