Freeport Stock Collapse Forcing Miner Into Asset-Sale Corner
by
Miner may need to reconsider which assets are `core': Nelson

Shares approach all-time low on slumping copper, oil prices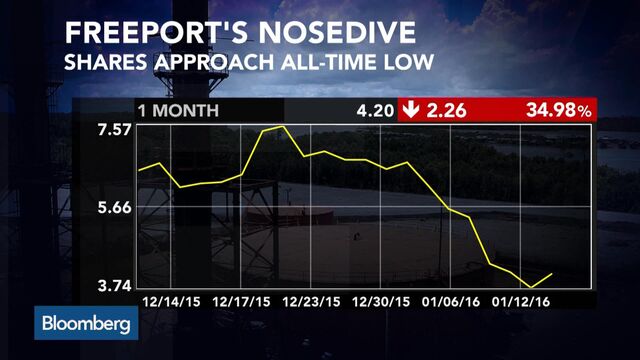 Freeport-McMoRan Inc. has avoided the major asset sales undertaken by some of its rivals. With its shares tanking to near record-low levels, that may be on the horizon.
With the stock trading at its cheapest since 2000, the company's plan to spin off or take public its oil and gas unit is unlikely to generate the kind of cash it needs to shore up its balance sheet. That may force the world's biggest publicly traded copper company to part with significant mines, according to BB&T Capital Markets.
"The reality is you're not going to get anything near what you want for assets in this market, unless you're willing to sell a tier-one asset," Jeremy Sussman, an analyst with Clarksons Platou Securities Inc., said in a telephone interview Tuesday.
While Freeport has already announced production cutbacks, it has so far escaped the drastic actions other miners were forced to take as commodity markets tumbled. In December, Anglo American Plc stunned investors by saying it would slash its headcount to 50,000 from 135,000 and shrink the company by two-thirds. Glencore Plc is planning to sell as much as $4 billion in assets, including its Lomas Bayas and Cobar copper mines, as part of a $13 billion debt-reduction plan.
Freeport is looking at various options to reduce its debt, including selling minority interests in certain mining assets, Eric Kinneberg, a Freeport spokesman, said in an e-mail.
The company "has a broad set of natural resource assets that provide alternatives for future actions to enhance its financial flexibility," Kinneberg said.
As part of talks to extend its contract to operate in Indonesia, which expires in 2021, Freeport has been negotiating to sell shares in its local unit to the government . On Thursday a government official said Freeport has offered to sell 11 percent of that unit for $1.7 billion.

Until now, Phoenix-based Freeport's strategy has been to expand production at its "supermines" which offer the highest copper reserves and the lowest cash costs, Garrett Nelson, a Richmond Virginia-based analyst at BB&T Capital Markets, said by e-mail Tuesday. The five such sites are: Indonesia's Grasberg, Arizona's Morenci, Peru's Cerro Verde, Chile's El Abra and Tenke Fungurume in the Democratic Republic of Congo. While those assets will probably remain off the table for sales, nothing can be ruled out, he said. The company also may consider selling a package of smaller, higher-cost North American copper mines, he said. Likely candidates would be Tyrone and Chino in New Mexico, and Bagdad, Miami, Safford and Sierrita in Arizona, he said.
"The company is in a situation where they might have to reconsider which assets are core and which are non-core and eligible for divestiture," Nelson said.
Freeport shares reached $3.65 intraday in New York on Tuesday, the lowest since 2000. The stock touched an all-time low of $3.38 in November of that year. Freeport climbed 12 percent to $4.20 at the close on Thursday.
Tumbling Commodities
Copper and crude oil are tumbling because of mounting concern that the economy is even worse than analysts were expecting in China. The Bloomberg Commodity Index, a measure of returns for 22 components, reached a record low on Tuesday. The gauge fell for fifth straight year in 2015, the longest streak since the measure's inception in 1991.
The prolonged slump is a reversal from the previous decade, when roaring growth across Asia fueled a synchronized surge in prices, dubbed the commodity super cycle. Miners including Freeport invested to expand production during the boom years, and those supplies are now spurring gluts across metals as China's economy falters.
Crude oil in New York fell this week to a 12-year low, and was down 18 percent in 2016 through Wednesday, the worst start to a year since records begin in 1984. Copper futures are trading below $2 a pound for the first time since 2009.
Researcher Wood Mackenzie Ltd. estimates that about 90 percent of the world's copper mines are producing at, or below, about $2 a pound, meaning 10 percent are underwater. Taking into account sustaining capital costs, the number rises to at least 15 percent, said Nick Pickens, a senior research manager at Wood Mackenzie in London.
Exhausted Options
While that might seem to suggest that many of the world's copper mines will need to close, miners have traditionally been reluctant to shutter sites until all other options have been exhausted, Pickens said in a telephone interview. Large miners have more options, and tend to reduce production, or defer expansion first, he said.
In August, Freeport said it would reduce its annual companywide copper production by 150 million pounds in 2016 and 2017 as part of a sweeping operational review. In October, it said it would cut production at its Sierrita copper mine in Arizona in half, taking another 100 million pounds out of the market, while considering a full shutdown of the mine. As copper prices kept falling, the company in December suspended its common stock dividend.
The company in October said its unit net-cash costs for copper were $1.84 a pound, excluding by-product credits from gold and silver. It expected costs for its North American copper assets, excluding by-product credits, to be $1.70 in 2015. Costs are expected to decrease in 2016, Freeport's Kinneberg said.
"Copper at $1.95 is no fun, but you're still generating positive" earnings, Sussman of Clarksons Platou said.
The price rout is likely to force some smaller companies to start shuttering mines, something Freeport may be banking on, Sussman said. That could help to ease the glut of metal supplies, but until commodity prices recover, the stock will likely continue to sink, he said.
"If you want to own a name like Freeport, you're betting on higher commodity prices -- even at these levels," Sussman said.
Before it's here, it's on the Bloomberg Terminal.
LEARN MORE