There's Good News Buried in China's Export Drop
Three charts to cheer Chinese exporters.
by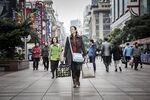 While Chinese exports shrunk for the first time in six years in 2015, some bright spots are buried beneath the otherwise dour headline number, according to research from Fielding Chen and Tom Orlik of Bloomberg Intelligence.
"Looking beyond that headline figure, there are signs that export competitiveness remains resilient, the share of domestic value added is growing and the export mix is shifting toward high-technology products," they said in a recent report. "All of that is positive for the 2016 outlook. Concerns about weak demand from emerging markets and data reliability cloud the picture."
1. China is taking a bigger slice of the global export market.
Although Chinese exports shrunk last year, they are still outpacing global imports, which means that the country's share of the world market continues to rise. Chen and Orlik said this points to weak global demand, rather than a lack of Chinese competitiveness. If global demand picks up in 2016, then "China should enjoy the benefits," they added.

2. It is exporting more computers and fewer clothes.
China is exporting fewer clothing items but more "high-technology" pieces. That might be bad news for such commodities as cotton, but it's good news for the overall Chinese economy as sales of clothes and accessories—"poster-child products for China's vanishing sweat shops" as Chen and Orlik put it— fell 6.4 percent from the previous year.

3. China is making the shift to higher value-added exports.
A move toward higher value-added exports such as technology products could mean a boost to China's overall growth, even as the headline export figure decreases. "In 2015, close to 70 cents of each dollar in overseas sales represented domestic value added. ...That's up from about 50 cents in 2006," the analysts said. "A higher share for domestic value added means that even as headline exports shrink, they continue to make a positive contribution to growth."

Still, as with many Chinese data points, there are reasons to question official export numbers.
As Chen and Orlik pointed out, China's data on exports to Hong Kong should align with data from Hong Kong on imports from China. That hasn't been the case—especially recently.
"It's not clear whether that reflects over-invoicing by China's factories, data manipulation by officials, or a statistical anomaly, but it makes tracking trade trends tough to do," Chen and Orlik noted in their piece. 
Before it's here, it's on the Bloomberg Terminal.
LEARN MORE