markets
Can We Fix American Cities by Tearing Them Down?
A plan to tear down 4,000 vacant houses makes Baltimore the latest city to invest in demolition.
By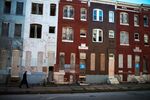 Maryland Governor Larry Hogan held a sidewalk press conference last week in Baltimore's Sandtown-Winchester neighborhood. He promised to revitalize the city by spending $75 million to tear down 4,000 vacant houses.
"Fixing what is broken in Baltimore requires that we address the sea of abandoned, dilapidated buildings that are infecting entire neighborhoods," he said.
Then the yellow paw of a Komatsu excavator ripped the face from a nearby row house, and Baltimore joined a growing club of declining U.S. industrial hubs that have decided they have more housing than their populations can support. The logic is that removing blighted sections of the city will help the larger body thrive, eventually clearing the path for redevelopment. The hard part is conceding that some areas are beyond short-term redemption.
"When you demolish with no plans for new residential development, you're admitting that right now there's no demand for this block, this neighborhood, this city," said Erika Poethig, a fellow at the Urban Institute. "It takes a certain amount of political courage to do that."
Efforts to eliminate derelict homes in the U.S. were turbo-charged in 2013 when the U.S. Treasury allowed six states that had received money from a pool known as the Hardest Hit Fund to use some of it for tear-downs, in addition to other foreclosure prevention initiatives for which it was originally earmarked. The reasoning behind the move, which made $370 million available for the demolition of residences, is that vacant homes lower the value of neighboring properties.
Through September 2015, Michigan spent $84 million in Hardest Hit Fund money to tear down 5,850 homes, including more than 3,200 in Detroit. Research published in October by Rock Ventures, the holding company for Quicken Loans founder Dan Gilbert, reported that the program added 4.2 percent in value to all homes within 500 feet of each demolition.

In its 2016 budget appropriation, passed last month, Congress allocated an additional $2 billion to the Hardest Hit Fund. Advocates for blight elimination would like Treasury to expand the number of states that can use the money for demolitions from six to 18, said Dekonti Mends-Cole, policy director at the Center for Community Progress, a Washington, D.C.-based nonprofit dedicated to the issue.
Maryland is not among the states that qualify for those funds, making the efforts announced last week among the most ambitious blight-removal plans that are not reliant on federal funds. In addition to the state initiative, Baltimore has demolished 1,280 homes through a city government initiative called Vacants to Value, according to the Baltimore Sun. The city is also chipping in $19 million to aid demolitions in Hogan's plan. In 2014, Cuyahoga County, Ohio, raised $50 million in bonds to tear down as many as 5,000 homes in Cleveland. 

There are other reasons to demolish homes beyond raising property values. Crime is one: A working paper published earlier this year by the Harvard Joint Center for Housing Studies found that doing so may reduce burglary, theft, and vandalism. Mental health is another: An article last year in the American Journal of Public Health measured the heart rates of pedestrians as they walked past vacant lots, suggesting that removing neighborhood blight offers a path to reducing stress. Once a building or a block has been torn down, however, further challenges appear.
Demolishing an abandoned building may be less complicated than figuring out what to do with the land it stood on. Detroit has sold land to neighboring home owners for $100 a lot, and it has experimented with a program to use vacant lots to prevent storm water from flooding the sewage system. In Baltimore, Hogan's plan includes $600 million in redevelopment funding that may one day lead to new, affordable apartments and supermarkets. Initially, most lots will probably be converted into parks.
Then there's is the question of which houses are worth saving and which should be torn down, a key concern in places such as Baltimore, which has about 16,000 vacant dwellings. "I argue that there is a lot of demolition that is absolutely necessary, but you have to have larger strategies," said Alan Mallach, a senior fellow at the Center for Community Progress. "I worry that if the only tool you have is a hammer, everything looks like a nail."
(
Updates to clarify that tear-downs were one of several foreclosure efforts named by the Hardest Hit Fund, in fifth paragraph.
)
Before it's here, it's on the Bloomberg Terminal.
LEARN MORE