Photographer: Michael Kline/Flickr Vision
Booming Tribeca Real Estate Saves New York Law Bonds From Junk
$139 million muni deal wins Moody's investment grade rating
by
It turns out the decision 50 years ago to locate New York Law School in Manhattan's Tribeca neighborhood might just bolster the institution's finances for the future.
The private school, founded in 1891, sold $139 million of tax-exempt debt through the Build NYC Resource Corp. on Tuesday at lower than initial yield levels, with investor demand more than four times the amount of securities sold. Moody's Investors Service rated the bonds Baa3, the lowest investment grade. The prior obligations that'll be retired with the proceeds were deemed junk. The higher rank for the deal stems from a mortgage pledge on one of its buildings, which is worth an estimated $170 million.
Aside from its valuable real estate, the law school's finances are strained like similar institutions across the U.S. as applications fall to 15-year lows and the job market for lawyers stagnates. New York Law had to draw down 10 percent of its investments to cover an operating shortfall in 2015, offering documents show. Full-time enrollment fell to 578 from 1,365 four years earlier, cutting tuition revenue in half over the period to $36 million.
"There's no way without that mortgage pledge that they would be investment grade based on their trends," said Howard Cure, head of municipal research in New York at Evercore Wealth Management, which oversees $5.9 billion of assets. "They're bleeding money right now."
The longest-maturing debt due in July 2045 was priced to yield 4.05 percent, down from an initial 4.12 percent. The deal received more than $600 million in investor orders. 
Judge Judy
"While a wide variety of strategies were considered when we started this process two years ago, the approach to this sale was the most beneficial for the law school to achieve the long-term goals of its strategic and financial plans," Anthony Crowell, the dean and president of New York Law, said in a statement. "It also was clearly attractive to investors. We have achieved our goal."
The institution, with alumni including Maurice "Hank" Greenberg, former American International Group Inc. chief executive, and Judith Sheindlin, better known as Judge Judy from her television show, focuses solely on legal education. It's separate and distinct from the nearby law school at New York University, which also offers undergraduate degrees and has graduate programs ranging from business to medicine to engineering.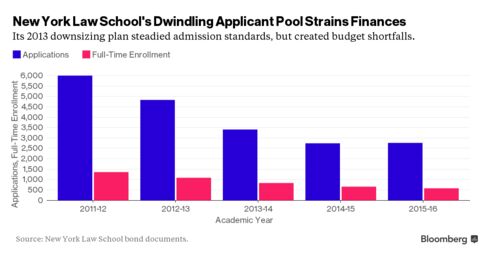 Moody's cut New York Law School's credit rating to Baa1 in August 2013. In October, the rating was dropped three levels to Ba1, the highest junk rank. Standard & Poor's, by contrast, raised the outlook on its BBB rating to stable from negative, citing an uptick in enrollment in 2015 after five years of declines.
The American Bar Association accredits more than 200 law schools, yet applications nationwide have declined by almost half since 2004 amid dimming job prospects for lawyers, according to the Law School Admission Council. That's forced schools to either admit students with weaker test scores and undergraduate grades, or cut class size.
New York Law is opting for the latter approach. While incoming students in the current year have about the same grades and test scores as four years earlier, the class size is 38 percent smaller because of a strategic shift starting in 2013, offering documents show. That's put a strain on its finances because tuition hasn't increased since 2012.
Premium Penthouses
One of the school's financial strengths is its real estate in Tribeca, where it moved in the early 1960s. Short for "Triangle Below Canal Street," the neighborhood is one of the most desirable locations in Manhattan. It's pledging the mortgage for the property at 185 West Broadway.
Music stars Beyoncé and Jay Z have an apartment less than half a mile from the building, according to the New York Post. Comedian Jon Stewart sold two units in the neighborhood for $17.5 million in November 2014. Deron Williams, a former Brooklyn Nets guard, put a penthouse around the corner from the law school on the market in July for $33.5 million, after buying it for $15.8 million two years earlier, according to the Post.
The average price for new developments in downtown Manhattan, which includes Tribeca, nearly doubled to $6 million in the fourth quarter of 2015 compared with a year earlier, according to a reportfrom The Corcoran Group released last week.
Tapping Investments
"If you live in New York, you feel like the property is never going down in value," Cure said. The bond sale "is going to be based on how comfortable people are with the mortgage pledge."
New York Law School already sold its former library building in 2006 for $136.5 million, with the buyer building condos in its place, bond documents show. Proceeds were put in its investment funds, which had a $273 million balance to start the current fiscal year, according to offering documents. That's expected to fall to $233 million by June 30. The draws are projected to decline as the school adjusts to its new size.
Because the law school has had to tap its investments to cover budget gaps in the past few years, the global markets are working both in the school's favor and against it as it plans to issue bonds. Moody's cites as a risk to the rating "a material market correction." U.S. stocks just capped their worst week since September 2011.
The stock volatility could benefit the school because municipal-bond yields are at 11-month low. Borrowing costs for issuers are the cheapest relative to Treasuries since May 2011. Proceeds from the sale will refinance its outstanding variable-rate debt and pay termination fees on associated swap agreements, leading to more predictable cash flows.
"It's definitely a borrower's market, so probably a really good time to bring an issue like this into the market," said Regina Shafer, who manages a $211 million New York muni fund for USAA Investment Management Co. She said the firm is looking at the deal.
"New York Law School has a nice location in Tribeca," she said. "But they've increased their draws into the endowment. We'll have to see what else they can do to work on their budget numbers."
Before it's here, it's on the Bloomberg Terminal.
LEARN MORE