Mapping L.A. County's 'Parking Crater'
200 square miles of spots, lots, and garages.
By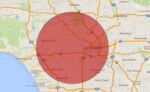 Some 200 square miles of Los Angeles County were dedicated to parking as of 2010. That equates to roughly 18.6 million parking spaces, or about 3.3 per registered car, according to recent research published in the Journal of the American Planning Association.
Those certainly sound like extravagant numbers, but what do they actually look like? Shane Phillips of the planning blog Better Institutions created a visual. Mashed into one hideous crater, all of L.A.'s parking (including curbside spots, lots, and off-street garages) runs 16 miles in diameter, and would encompass a staggering portion of the county's urbanized area. (For comparison, here's a map of all of L.A. County.) Phillips writes:
This imaginary parking lot … is enough to completely wipe out downtown LA, Boyle Heights, Chinatown, Koreatown, Westlake, Glassel Park, Silver Lake, and Echo Park; most of South LA; Hollywood, West Hollywood, and Beverly Hills; Mid-Wilshire; Culver City; most of the Westside; and all of USC, UCLA, and Griffith Park.
That is nearly half the area of the city of Los Angeles, and according to Phillips, home to about 2.3 million people and 900,000 homes. Those numbers give pause, especially as Los Angeles grapples with a severe housing crisis. As my colleague Eric Jaffe noted in December, L.A.'s parking stats didn't emerge from thin air—a century of parking minimum requirements pushed the county into this big, red hole. There's no easy escape, though smarter parking rules, transit-friendly development, and the conversion of existing lots into affordable housing are great places to start.