Granite Straits
Rubio Tries to Broaden Appeal in New Hampshire But Faces Skepticism
The Florida senator is walking a fine line trying to win Tea Party voters without alienating the center-right wing.
By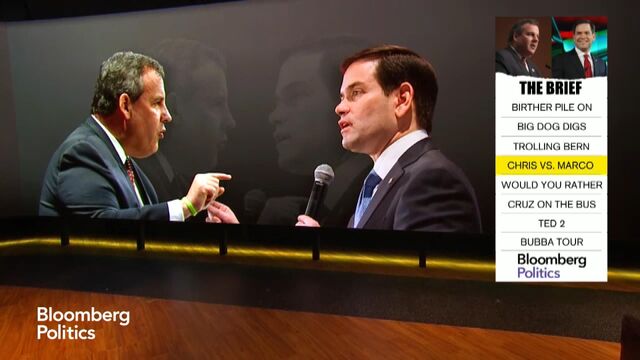 Mark Barker, 67, watched Marco Rubio speak and answer questions for an hour on Friday at the packed Red Blazer Restaurant in Concord, New Hampshire. He came away with mixed signals, not quite knowing what to think.
"He's very slick. I think he wants to portray himself as being an outsider, and in certain respects maybe he was. But he supports the party line," said Barker, a retired systems analyst based in Boscawen, New Hampshire, who plans to support John Kasich in the Feb. 9 Republican presidential primary. "I heard so many contradictions in what he said."
The duality is a result of Rubio's strategy aimed at plucking support from both the establishment and conservative wings of the Republican Party. It has left him walking a fine line trying to win angry Tea Party voters without alienating more moderate Republicans. The thinking, according to people familiar with his strategy, is that if he boosts his support in comparison to front-runners Donald Trump and Ted Cruz, center-right voters will see him as their only viable alternative.
Rubio's stump speeches in New Hampshire blended in a few teaspoons of hopefulness with large doses of anger and fear, plus a dash of apocalyptic pessimism. With Kasich, Jeb Bush, and Chris Christie crowding the establishment lane in the Granite State, the 44-year-old senator from Florida was on a mission to prove he's different.
At times, Rubio echoed Cruz's fiery rhetoric: President Barack Obama isn't "interested in fixing America," he said, but wants to "radically transform" it. He made a conspiratorial joke: "The fact that you're here today probably means you're going to be audited by the IRS," he said at the Red Blazer. The once-sunny and relatively pro-immigration son of Cuban immigrants also took a turn for the ominous by warning that terrorists are exploiting loopholes in the U.S. immigration system.
He endorsed a constitutional convention to impose term limits on members of Congress and judges, and amend the Constitution to require balanced budgets. "When I'm president, I'm going to give the full weight and force of my voice to ask the people to do this. It needs to happen," he said. "Congress is not going to pass term limits. It's amazing, the majority of members of Congress are for it, but they won't do it."
He talked about his rise to the national stage in 2010, when he defeated Republican establishment favorite Charlie Crist for the party's Senate nomination. "I didn't benefit from plugging into an existing structure, because they were for somebody else," he said. "Some people saw that as a curse but I saw that as a blessing."
At times, the self-styled generational candidate and fan of rap music sounded like a culturally alienated member of the Silent Generation. At a house party in Bedford on Thursday, he said the U.S. needs a president who'll promote the "values that they teach in our church and in our home, not the values that Hollywood, the media and the music industry want to ram down our throat."
What Voters See
Underneath the rhetoric, however, many voters saw a creature of Washington.
"I think of him more as the establishment candidate," said Luke Planchet, a 21-year-old college student, who's turned off by Rubio's support for sweeping government surveillance programs and intends to support the libertarian-leaning Rand Paul. "Rand always seems more like an outsider," he said.
Luke's mother, Elaine Planchet, who took a photo with the senator, leans toward supporting him, saying, "he's a little of both." "He's establishment as he's currently in the U.S. Senate but he got there without the political machine," she said.
Karen Giaquinta, a 55-year-old travel agent from Bow, New Hampshire, has narrowed her choices to Rubio and Carly Fiorina. She thinks Rubio is an establishment candidate, "and I think that's a good thing," she said, citing as her top issues "free enterprise and being able to feel safe in this country."
Mary Stawicki, 63, also from Bow, doesn't care whether the Republican nominee is an establishment figure or an outsider. She's torn between Rubio and Christie. "I look at Senator Rubio as more of an aspirational candidate. But I like Christie. He's more aggressive," she said.
Crowded Establishment Lane
Rubio also worked to undercut rivals who threaten his establishment support. He continued his war of words with Christie, responding to the New Jersey governor's jab that Rubio is untested and Democrat Hillary Clinton would "cut his heart out" if the two were matched up in a general election.
"Chris has a very liberal record for a Republican. He supported Common Core. He ran for office as a supporter of gun control. He personally gave a contribution to Planned Parenthood," Rubio told reporters Thursday after a town hall at Nashua Community College. "Our next president has to be someone who's going to overturn all the damage Barack Obama has done to America, not continue it."
The super-PAC backing his candidacy is running ads attacking Christie as an unreliable conservative who's too friendly with Obama. When asked about anti-Rubio attack ads airing in New Hampshire by a pro-Bush super-PAC, the Floridian said, "Usually it means you're doing well, when someone's trying to pull you down."
If Rubio wins the nomination, his unorthodox strategy may end up looking like a stroke of genius. If he falls short, one reason may be that he stretched himself too thin, trying to be too many things to too many people, and failing to build a deep base of support. For now, he is carefully managing expectations.
"I'm running to do as well as possible everywhere we get involved," he told reporters Thursday. "We're running to do as well as possible... We want to get as many votes as we can and we'll see where that leads us."