Israel's Best-Performing Tech Stock Hasn't Sold a Single Product
Nano Dimension, a 3D printing upstart, went public with no revenue through a process known as a reverse merger.
by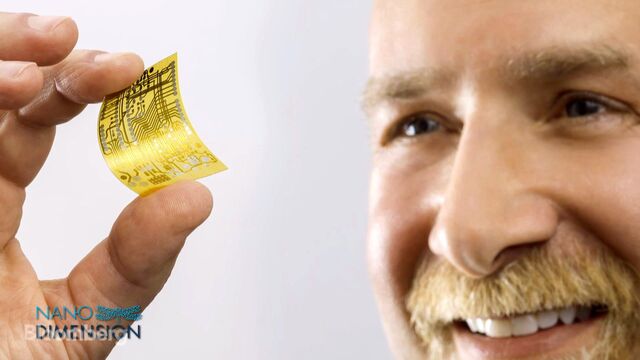 Occupying a small, second-floor space in the same office park as 3D printing giant Stratasys, a tiny Israeli upstart is trying to sell investors on a future in which physical objects materialize with the press of a button. Nano Dimension is nowhere near achieving that goal, yet somehow has become Israel's best-performing technology stock in 2015.
While Stratasys lost nearly three-quarters of its value last year, the much smaller Nano Dimension rallied 261 percent. Not bad for a company with no customers or revenue.
This little 3D printing shop, with 44 employees and a market cap of 193 million shekels ($49 million), has become a source of hope for Israeli entrepreneurs struggling to secure venture capital. That's because Nano Dimension took an unorthodox route to raise about $18 million and become a public company, while managing to avoid the long, costly process of an initial public offering. 
Nano Dimension found its way onto the Tel Aviv Stock Exchange using what's known as a reverse merger. This involves a private company taking over a public one, bypassing the formalities of an IPO. "We're selling shares like any other public company," said Amit Dror, the chief executive officer of Nano Dimension. "It's just that it happens to be that our case is a public company that's pre-revenue."

Reverse mergers have been around for decades, often with less-than-savory intentions. They were made infamous by the 1980s pump-and-dump schemes portrayed in the Wolf of Wall Street. More recently, a rash of Chinese companies using the mechanism in the U.S. were sued by the Securities and Exchange Commission for accounting fraud.
Reverse mergers are rare. There have been just 11 in Israel since the beginning of 2014, according to the Tel Aviv Stock Exchange. Then again, tech IPOs have also become pretty rare. Just 26 Israeli tech companies have gone public in the same time period, according to a report by PricewaterhouseCoopers. Venture capital is more abundant. Since 2014, more than 1,100 Israeli tech companies have raised at least $6.6 billion, according to the IVC Research Center in Tel Aviv. Still, the have-nots complain that there isn't enough cash to go around.
Dror said he spent two months holding 20 pitch meetings with private investors as he tried to drum up funding for Nano Dimension. With no attractive offers, he turned to Itschak Shrem, a 68-year-old finance whiz familiar to many Israelis because their pension funds bear his name. Shrem took on the role of chairman at Nano Dimension and guided the startup through a reverse merger over the following six months. The company completed the process in August 2014, raising $1.5 million. It was enough to fund development of Nano Dimension's first prototype 3D printer.
Now Shrem is helping other Israeli startups navigate their own reverse mergers. In July, Emerald Medical Applications, which makes a device that photographs skin to detect signs of cancer, held a reverse merger in the U.S. 4sight, which bills itself in an investor presentation as a competitor to driverless car software maker Mobileye, listed in Tel Aviv through a reverse merger last month, with the eventual goal of listing on the Nasdaq, Shrem said.
While Nano Dimension's success is inspiring copycats, investors should be wary. Early stage financing is a risky business, and Nano Dimension's path to the public markets is unusual, said Shai Harel, a professor at the Hebrew University of Jerusalem who studies startups and entrepreneurship. He said the Tel Aviv Stock Exchange has done research showing that companies that become public through reverse mergers using shell companies don't generate substantial value for investors. The stock exchange declined to comment.
The track record for young companies going public isn't great. U.S. IPOs of companies with less than $10 million in revenue lost their backers 8.2 percent of their buy-and-hold investments after the first three years, underperforming the market by 45 percent, according to data compiled by Jay Ritter, a University of Florida finance professor. Reverse mergers aren't included in the data.
But Shrem said his résumé has helped sway investors. He helped build Clal Insurance, a unit of one of Israel's largest conglomerates, and co-founded investment house Dovrat Shrem Investments. At his peak, he managed as much as 2 billion shekels ($509 million) in assets, according to a 2010 article in Israeli business newspaper the Marker.
Shrem made some bad bets on Eastern European real estate that soured during the 2008 financial crisis, an error he said he has learned from. In one case, he was accused by creditors of paying himself an excessive salary, the Marker reported. Shrem said the bonuses were a product of good times and were approved by shareholders. "I know to acknowledge business mistakes I've made for which I stood responsible and did my best to correct," he wrote in an e-mail.
For his latest role as reverse-merger magician, Shrem agreed to come out of retirement, which he described as boring. Nano Dimension is attracting interest from American investors looking to turn a quick profit, as well as from Israelis looking to back technology, Shrem said. "None of the Israelis are selling; the ones who bought the shares really want to stay," he said. "They trust me."
Nano Dimension made 3D printing seem sexy to some investors when others began to lose hope. Stratasys's shares have fallen because many investors believe 3D printers won't be in every home or revolutionize manufacturing overnight, said Brian Drab, an analyst at William Blair & Co. "If you could paint a situation where you have 3D printing technology that really is going to be disruptive to some small niche of some small end market, that's a much better story."
Dror said Nano Dimension is doing just that. Its target customers—it still doesn't have any—are electronics and defense companies. The printed circuit boards it makes are etched with highly conductive silver made from nano particles. Dror said the printer can cut companies' turnaround time for certain prototypes from weeks to hours.
If a review by the SEC goes well, next up for Nano Dimension is uplisting from the U.S. OTC market to the Nasdaq Capital Market, which has the lowest pricing requirements offered by the exchange. That, and finding someone to buy one of its 3D printers.
—With assistance from Yaacov Benmeleh and Sangwon Yoon
Before it's here, it's on the Bloomberg Terminal.
LEARN MORE